Stolen Moments part 2
January 17, 2010
I rolled onto my back, the cloud I had descended onto was soft, and it felt like freshly washed sheep's wool. I lingered in that memory, the first time Bailey had spoken to me, stealing it from my human life, locking it inside my heart, ready to take it with me wherever my soul went next. The sun shone on me, warming me through to the core. I smiled, happiness flowing through me, as I rolled back onto my stomach and stole another memory from my past life.

*********

Our breathing was heavy, the heat from his body burning through my clothes, setting my skin on fire. Bailey rolled so that he was on top of me, kissing me hard.
"I…am… so…proud….of….you," he whispered in between kisses. It was the day before my book was due to hit the shelves; the publishing had taken a year longer than I had expected, but I was thrilled that my work had been considered worthy of being published. It was the 18th of October, exactly one month before my sixteenth birthday; my eleventh year of high school was almost over, with a few weeks separating us from the holidays. It was also our 1st anniversary, we had been together a whole year, and Bailey had taken me to a tropical resort up the coast to celebrate. Bailey kissed me again, his lips the perfect moisture, his hands caressing my cheeks in the most gentlest of ways, his eyes boring into mine, seeing right into my soul.
"I love you Courtney," he whispered.
"I love you Bailey," I whispered back, running my fingers through his hair.

************

I couldn't cry in heaven. I was just too happy, all my anger and sadness washed away. I did, however, feel a strange twisting in the pit of my stomach as I watched my Mum and Dad age prematurely in the years that passed after my death. Dad went bald and Mum let herself go, not bothering to put any make up on anymore, she only combed her hair for work; even then she worked in a daze. She busied herself in spoiling my daughter who was now three. Bailey was a building apprentice, not raking in an amazing salary but not doing too bad either. He and my blue-eyed girl lived in a little apartment not too far from where my parents lived, so they were able to babysit in case Bailey was called out to a job. Bailey had vowed never to love again, and it pained me to see him longing for me late at night, curled up underneath the sheets we had once made love in. I did not want him to be lonely but I did not want him to be with another. He had been there for me when I gave birth to Elena, our beautiful blue-eyed girl. He had been there for me at book signings, conferences that lasted up to three hours; he had been there when I hadn't been able to listen to Elena's screams for another moment. There was only one moment he hadn't been there for me, and it ate up at his heart constantly, what ifs? filling up his head, each possibility more agonising than the next, because the truth was, even though he wished it to be different, I was dead and I wasn't coming back.

***********

"You're very pretty Courtney," Esmerelda said, smiling as I signed a copy of my book for her.
"Thanks," I said, getting up from my chair and picking Elena up out of her pram, pleased that she hadn't received my dreaded curls. I cuddled her, my beautiful baby girl. I couldn't believe my parents had wanted me to get an abortion. Elena was precious, a product of Bailey's love towards me and my love to him. I had a feeling that he was going to propose to me in the near future and I couldn't wait to see the surprise he had promised me when I got home. Esmerelda walked with me out to the car park, cooing over Elena as Bailey pulled up in our Volkswagon Bug. He got out and began helping me load my bag and pram into the boot, along with a couple of boxes of stationary supplies. Esmerelda helped put Elena into her car-seat; they were both blowing raspberries at each other.
"I guess we better get going," I said, closing the boot and pulling my jumper more tightly around me as a cool wind whistled through the carpark.
"Actually, I was wondering if you'd like to join me for a quick coffee?" Esmerelda asked. "You see, I'm writing as well and your work inspires me so much. It would be really great if you could share some of your tips with me."
"We actually had plans, Esmerelda," Bailey said.
"I absolutely insist," she said, a dark edge creeping into her voice. Bailey opened his mouth to say something but I cut him off.
"I can spare half an hour," I said, checking my watch. "My parents aren't due to pick up Elena until six and its five now."
"Excellent!" Esmerelda clapped her hands together, smiling at me. I kissed Bailey goodbye and blew a kiss to Elena before setting off across the carpark towards Esmerelda's house, which was only a short walk from here.
I didn't come home that night.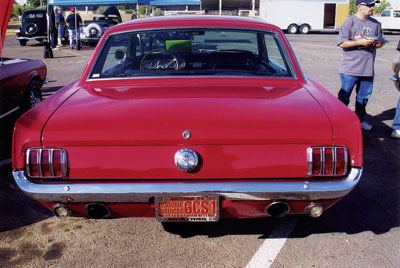 © Andy G., Phoenix, A