Counting My Days With You
January 11, 2010
As I lay in my bed, still as a rock, nothing on my mind but you, I wondered, (when would you call?), (should I call?), (maybe you are waiting for me). For the past three months I have been talking to my "best friend". The conversations lasting from an hour to forever. The once loser, who sat in the back of the class, was one of the closest people to my heart. The only friendship that never died out, I never had doubts about. Little did my brain know my heart was dragging me closer and closer to you.

One Sunday morning I woke up, and in my mind I knew I was in love. My heart had taken over me completely I had held you by my side and taken care of you like my own child. I wanted you, for more, to love, to kiss, to have for eternity. My mind was made and a mission to pursue you began.

"To make it official, we have to kiss." I said. A cute giggle escaped from your lips. My ears satisfied…

I waited for the right day.

As our lips met, my mission was a success. My mind was juggling and I couldn't believe this was actually happening. Your eyes glistened, and the happiest day of my life was imprinted into my heart. My eyes only watching you…and forgetting all about the movie…

"I don't know hunny I just don't see you enough." Everyday was a day worth living just with the thought that I had you. It was only day 14. We couldn't get enough of each other. Our phone calls lasted longer, and we seemed to have everything in common. In my mind: perfect.

"Happy Anniversary!"

"Hey, things always get better, I know your parents don't give you what you deserve. But hunny, I will take their place in your heart."

"Hey there is a camp, are you going?"

As our cars pulled up in the sand, the wind blew softly, and our time together would finally commence. The sun shining, the sand extremely soft.

I sat alone, about twenty six feet away from the lake. My team flag posted in front of me. The nature was beautiful. I was thinking about us. The weekend had been disappointing. I didn't have enough time to spend with you. I wondered if we would prevail, and if we would last. Someone was coming; as I tensed up I forced a smile on my wondering face. It was you.

"I don't know, it's just this whole weekend was supposed to be you and me, you know?"

Right before camp ended, I grabbed your hand and asked if you wanted to walk with me. We ran away from everyone else and sat behind a SUV. We played. We kissed.


At that very moment I decided that I couldn't ever drop you out of my life. That I would never go so far with just anyone. In my heart I knew this would…never end.

As time passed things got hard, the thought of college and Kien was breaking us apart. Our little dates together seem to get harder and harder. Our parents were cracking down on us.

"No matter how hard this gets. I'm not going to let you go. You mean the world to me. And I would give my life for you".

Time went on and we missed each other more and more. Your Hello Kitty wiener pillow was all I had to remind myself that I had you. Our communication slowly being cut off…I missed you.

"I just don't think I can be with you."

First I looked in your eyes with disbelief. Then the tree behind me, then the ground. My mind… shut down. My heart, gave out, my voice at a stutter. Tears fought my eye lids to get out. I was broken. In my mind, I tried to figure out where I went wrong. Why something so perfect, let go.

As I counted the days that we were together. I couldn't recall a day I gave up… a day I didn't care. My insides bunch every time I see you… and I wonder…if you ever counted the days…that I loved you.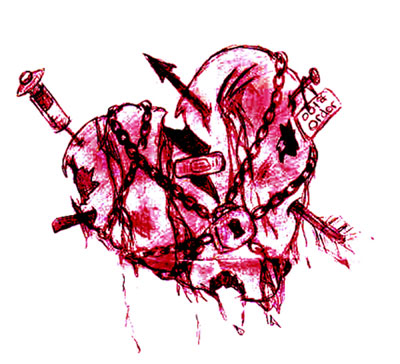 © Asia B., Hudson, MA