Forbidden Love and Great Adventure Part One
December 31, 2009
A long time ago, in a land torn by war, two people met and embarked on a journey of forbidden love and great adventure.

In a land far away where there were bright green pastures with cows to milk, fields with so many flowers to pick, and a gigantic stone castle set upon a hill a feast took place. It was a grand feast fit for kings.

Sir Terrance and Lady Rosalin stood in the middle of a beautiful garden. Lady Rosalin looked out at her party guests that filled her garden. They were there for her husband's going away feast. He was going out to war.

The party guests surrounded them. They were chattering away, oblivious to what was going on around them. They were protected by their bubbles. As they ate and milled about things they would never fully understand began to unfold

A man and his wife walked over to where Rosalin stood. She smiled and waved at them. The couple finally made their way over to where she stood.

"This is such a lovely feast, Rosalin." The woman said filling her duty to complement Rosalin's handy work. By the time this couple got to Rosalin she was so sick of the fake complements but she still put on a smile and said "Thank you."
"Terrance has done so much for our country. We all would like to thank him." The man said. Once again Rosalin put a fake smile on and said "Thank you."

Terrance was not truly who he seemed to be on the outside. It boiled Rosalin's blood that he could get away with what he has done and what he will continue to do. It made her even angrier that she could not stop it.

Lady Rosalin moved closer to Sir Terrance. He put her hand in his, and looked at Rosalin.
"My lady, we ride out at sunrise tomorrow." Sir Terrance told Lady Rosalin.
"I know. I will miss you dearly and pray for your safe return every night." Lady Rosalin told Sir Terrance.
"My dearest Rosalin, my best man will be staying with you and the servants. He is to protect you."
"And where is this best man of yours?" She asked, skeptical of her husband's plan.
"Sir Adrian." He called, to the young man standing next to the terrace, at the back of Rosalin's garden.


Sir Adrian walked over to where Lady Rosalin and Sir Terrance were standing. Lady Rosalin took in his appearance, he had curly dark brown hair, green eyes with flecks of gold near the pupil, and a crescent shaped scar above his right eyebrow.

Rosalin quickly finished her inspection of her husband's "best man". Just before she looked away he caught her glance and held it there for only a few seconds. It seemed like he was trying to get her to remember, and then he looked away. It was gone in a flash, almost like it never even happened.

She was excited by his very presence. Rosalin was happy again. Being in this man's presence made her feel safe but above all he made her happy. She hadn't been happy in such a long time. She thought about what she had observed about Adrian's outer appearance. She came to the conclusion that he could not be a day over twenty five.

"He cannot be a day over twenty five." She told Sir Terrance.
"I am twenty two and in good health. You don't look a day over twenty five either." He said. His voice was like honey, sweet and smooth. She was surprised.
"Is that supposed to be a complement or an insult?" She asked him.
"It is however you take it." Sir Adrian told her.
"She is twenty two." Sir Terrance said to Adrian
"He may be young but he has proven to be trust worthy and is capable of watching over my childless wife and a few servants." Sir Terrance told Lady Rosalin. In the back of Rosalin's mind she thought that she had seen Adrian wince when her husband said trustworthy. It happened so quickly Rosalin considered it to be a trick her mind played on her.
"Do you think I want to be childless!?" She screeched.
"Not now. This is not the place Rosalin." Sir Terrance told his wife.
"This is the place! Do not act like you have not brought this on yourself!" She screamed at him.
"You no good, ungrateful woman." Sir Terrance raised his arm into the air like he was about to strike Lady Rosalin. Before anything else could be said or done Sir Adrian interjected "Sir you were about to show me where I am to sleep."


Adrian's voice danced about Rosalin's ears like music. It was refreshing. For some reason, for a moment, she was transported back to a time where she was happy.

"I guess I was." Terrance and Adrian left the party in search of Adrian's sleeping quarters.


Rosalin turned to face the drunk and rowdy guests of the feast. She looked at them with disgust. They were in her garden. They did not even notice. They were protected by some imaginary spell that did not protect Rosalin.

~~~~~


Rosalin's grace and poise was accompanied by her beautiful long blonde hair and stormy blue eyes. She wore a crimson colored gown that flowed to the floor. It gathered in the back into an elegant train. Her hair was braided back with ribbons and flowers that were intricately woven into her hair. She was a flower among the weeds that crowded her garden.

Rosalin was a beautiful baby. She was the product of King Solomon and his wife Queen Beatrice. Beatrice was only a girl when she gave birth to Rosalin. Shortly after Rosalin's birth Beatrice died. The King quickly remarried before Rosalin's second birthday.

Rosalin's beauty was known throughout the land. She was envied by all of the girls. All of the girls in the land wished they were Rosalin and all of the boys wished they were loved by Rosalin. Despite many girls' envy, she was loved by all.

Rosalin came from a long line of royalty. Her father was the king of a mighty nation and he was looking to grow his dominion. He was a peaceful man who rarely resorted to war. Rosalin was a peace offering and a bargaining chip used to gain the foreign land. She quickly became the key to the king's conquest of the neighboring land.

Her father promised Rosalin to the King's eldest son Terrance. At the time he was thirty.
King Solomon had only one stipulation, Rosalin was not to be wed until her sixteenth birthday. He felt that this was the only way to go about things.

~~~~~

Rosalin's early years were filled with sewing lessons, learning how to run a household, and being a princess. When she was not watching over her younger siblings Vincent, Elizabeth, and Katherine she spent her time in "her" garden.

From a young age she was naturally drawn to gardens and their beauty. Rosalin spent all of her time in any garden no matter where it was. It did not matter whose garden it was. All that mattered was that it was a garden. She felt that no matter how ugly her life got one thing would always be beautiful, her garden.
~~~~~

The boys of her father's kingdom would pass by her garden and give her flowers or small trinkets. The rich sons of her father's dukes and earls were known for trying to win her love this way. She found it insulting that they thought that trinkets could make her love them. At least ten boys a day would come by her garden and give her these things. Everyday this went on until he caught her eye. Of all the boys that passed by her garden one caught her eye. His name was Westley.

As he was passing by her garden one day he caught her attention. She called him over and he ran over to the fence of her garden and bowed.
"What is your name boy?" She asked him.
"Westley, your highness, is there anything that I can do for you?" He asked her.
"Westley…" Her lips liked the way his name felt when she said his name.
"Yes?"
"It was very nice to meet you." She whispered.
"I was very nice to meet you too your highness." And he walked away.
Rosalin was and still is a very opinionated and fiery girl. Meeting Westley for the first time left her speechless. This was only one of two times in her life that left her speechless.

~~~~~


Every day at the same time Rosalin would be waiting in her garden for Westley to pass by. Every day at the same time he would bring her two things, a rose and his absolute willingness to give her his heart.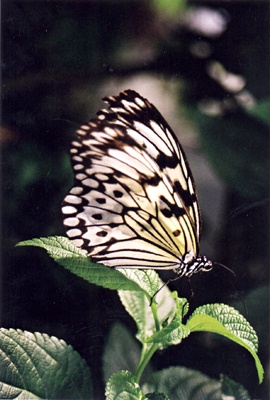 © Courtney G., Rocky Hill, CT