The Blood Of Love
November 22, 2009
There was something awfully dangerous about him. Maybe it was the dagger like glint in his eyes, the peculiar curve of his upper lip, or maybe just the forever permanent shadows beneath his eyes. Whatever it was, it took my breath away.

I loved everything about him. His graceful walk, high cheekbones and lean frame. And those eyes. So full of life, yet undeniably mysterious.

I'll never forget the day that I learned the truth:

"Hey," he said, smiling. I remember grinning in return, my eyes finding his. With his left hand he took my face, cupping it gently. "You're so beautiful," he whispered, his breath surprisingly warm on my face. I felt his lips brush along my collar bone. Then something changed. Tiny points pricked my skin and I yelped.

"Wha-?" I asked, my mouth agape. He pulled away abruptly, baring his fangs for the very first time.

"Where the heck did those come from?," I asked. He frowned, his eyes blurring.

"Does this change things?," he breathed. I thought for a moment. In that instant, I realized that his hand was drifting away, as if it had never been on my arm to begin with.

No. One word and it stuck in my throat. I was afraid. Why couldn't it not matter? He loves me and I love him so why should this keep us apart?

I could feel his eyes burning a hole through my chest. Inside I was tearing myself apart. Was there a line between make-believe and fairytale? Right now the boundary seemed incredibly thin. How could we distinguish between reality and fiction?

When he shifted away, I reached out and took his hand. I'd never seen such a perfect match. Those hands were like copies of my own. Only they belonged to a monster. A vampire. Except he isn't. He's a man, the man that I know more than anyone else in the entire world. The soul that belongs with mine, side by side for eternity.

"I love you," I told him. His eyes grew alarmingly wide and then he kissed me. He took me in his arms and just held tight. My heart pounded frantically inside of my throat.

"And I love you," he breathed against my neck. His voice sent shivers through my spine. But these weren't frightening, they were comforting and reassuring. This time when the tips of his teeth pierced my skin, I lay back in his arms and smiled.

Now we really are our equals.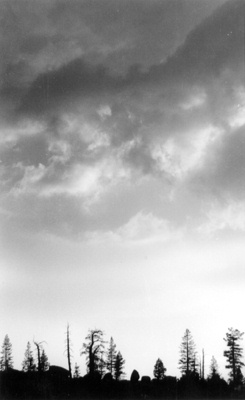 © Steve S., Marblehead, MA