Hoodie
November 5, 2009
I do up a blue hoodie; it in its entirety is a comfort; everything from the warm wool blend to the half-broken silver zip. At once in my head is a picture; a point in the past where I wore this garment as I do now, pulling the sleeves over my fingers out of habit rather than a desire for warmth. I'm wearing a scarf, too; it is grey and white, and a pair of jeans I've since grown out of. My converse are caked with wet sand- I am on a beach; Max is walking beside me and I look out into the distance, it is empty but for couples. We could be a couple, I realise, if I had chosen so. I have heard the rumours- I know everyone has decided that we are already as good as involved with each other, but my heart always belonged to friendship. A good element of that is most likely fear- commital is a terrifying thing, even when you're fifteen years old and the worst that could happen is people would gossip about you. Here, on this beach in the wind with sandy shoes and a guilty conscience (for my fear of course wounded Max), I am however, happy. There is something nice about this closeness, this proximity. We stop to talk to a group of friends who have crash-landed onto the September sand and begun to write their names and draw pictures. I smudge Max's name, he grabs me around my waist and I hold his hands so he can't let go. Somebody takes a photo of us then but I never knew who, and to this day have never again seen that photo. It's a shame, I would've liked to own a real, substantial copy of that memory, just so I can believe I didn't dream the entire thing.

Max and I are the possibility- the glimmer of something in the distance that never really came into focus, the script never cast. Say it in a hundred different ways, or don't say it at all- hide it, head bent, so nobody sees the bloodshot eyes that would say it all for you given the chance.

I take off the hoodie. Perhaps I will wear it next week- perhaps then it will hold a different charm to me. At present I'm still too tangled up in the events of before- even if it was a year ago, even if I am nearly seventeen and old enough to know better. Even if I am one of the smartest students in the school.

Even if Max has moved on.

The wardrobe closes without me picking another jumper; the cold is my punishment for this blasphemy. I refuse to let myself think of Max and I in terms of relationships- we were too young. It wasn't anything. It's my head, taking a small, insignificant part of my history and blowing it entirely out of proportion. I pick up a scarf from under the piano- my mother will no doubt discover the horror and disorganisation of my bedroom later and have something to say about it. The warmth is comforting; I'm allowed to think what I want. It's not like I'm still harbouring romantic feelings for one of my best friends- I came to the conclusion that we'd have been a terrible couple a long time ago. It's just that I find it difficult to know he doesn't still think that way about me. I don't want to be easy to get over. I want to be a heartbreaker, selfish as it sounds. It's the same principle as those who quit before they are fired- if you hurt someone else they won't hurt you.

I am aware of the creaking of floorboards, and I jump, only to realise moments later that I was the one making the noise. I glance around me; wrapped up in my thoughts I've walked barefoot down the staircase and am in the hallway. My cat winds around my legs, a familiar warmth, a living, breathing magnet back into the real world.

Journeying back upstairs seems to tire me, despite being relatively fit. I sit at the piano; it's electric, a lack of funding from my parents to amuse a lack of musical ability. Some of the keys have a thin layer of dust on them which I press with my fingertips. I take something in that; it feels like I'm leaving my fingerprints on the world rather than a disused instrument. I used to write songs, yes, I remember now, I would get my best friend to sing them and we would reduce our friends to tears with our displays. My fingers sweep across the piano, it's so familiar, yet just out of reach. The old songs I wrote are nothing now, child's play. This is the present, this is the future. This is my life and my soul and my being and nobody, not even Max, will take that away.

I release the pedal; the reverb is almost defeaning. With sudden, new confidence, I pull on the hoodie, and zip it up.

The truth could be a real thing, shining and shimmering before me with an almost ethereal glow.

Max isn't trapped in this hoodie, I am.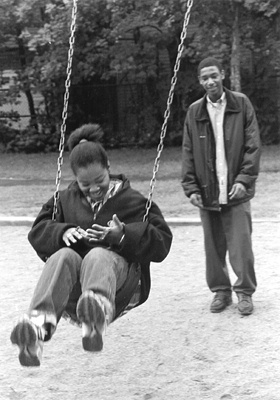 © Yaniris M., Boston, MA