First Sight of Love
June 17, 2009
The car sped through the night, catching drops of rain on the windows as it urged forward on the wet road. My companion looked deeply concentrated, and some sweet sadness filled his eyes. He was a mystery. One couldn't be sure if it was frustration or affliction that conquered his soul. My guess was that both forces were working against him in some strange unison. I sat in the passenger seat, unsure of where we were headed. I thought he might be stopping by his house to talk to his parents before he took me home, or maybe he was letting me retrieve my forgotten hair clip from his bedroom. He continued to drive, and the conclusion that perhaps this night cruise was indeed absent of all rationale entered my mind. The setting around me became all the more unfamiliar with the veil of the damp, shadowy night.

Neither of us had spoken a single utterance until the car finally halted in a dimly lit parking lot. I broke the heavy silence, asking him where we were. He told me that we were sitting in the parking lot of his high school. Perhaps I should say, his former high school, seeing as how his graduation ceremony was the next morning. I muttered something in response to him, and he smiled a little. I stared out my window, welcoming back the peaceful, yet intense silence between us. But, my silence was interrupted with a gentle hand on my shoulder. I didn't turn to look at him at first. I allowed him to touch my neck and play with my hair as I gazed on into the night. When I finally turned to him, I avoided his eyes by taking his hand and pressing it to my cheek. There was nearly enough room for me to bury my entire face, my entire soul, into his hand. I kept his hand pressed against my cheek and I kissed his palm with a sweetness I hadn't been reminded of since my childhood.

At the moment when his lips finally met mine, I wanted to cry. I was overwhelmed by the beauty of the moment's purity. Love had never been so kind to me. It had never been so real. Without speaking, I unbuckled my seatbelt and got out of the car. The door slammed and I took my position, leaning against the rain-covered vehicle. He didn't understand immediately. I had to motion him toward me, as he was still sitting in the car, confused. He looked reluctant, but at last he gracefully rejoined me outside the car. I needed to be close to him. He took me in his arms, and I knew at that moment he understood how much I needed him.

That night ended beautifully. I will always carry that memory of him with me as a reminder of love's authenticity. I will forever compare my love to that rainy night, and that humble embrace. Whenever I think of that forgotten hair clip, I will be reminded of the night that I shook hands with love. It will not matter if I never see that hair clip again. It will not change if I never again see my companion. I have seen love.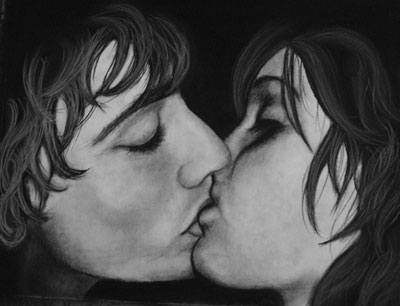 © Anna Y., St. Robert, MO