My Little Angel
June 16, 2009
This is the sixth time. This is the sixth time he didn't show up like he promised. Luckily I knew better than to trust him. I told my mom to be ready to pick me up at 8. My mom said to have a little faith, he'll show up this year; and then she asked where to pick me up when I gave her that "are-you-kidding-me-look." I told her near the New York Christmas tree. It was usually up all year; they always forget to bring it down. I sighed and looked at the golden watch he'd bought me a few years ago when he'd said that he was sorry he couldn't make it.

I doubted he was sorry the way he said it. It was in a way that even the most gullible person in the world would have known he was lying. I sighed. The watch read 7:45 pm. There was still 15 minutes to spare, but I had been waiting for a couple of hours. I just lay in the ice cold snow watching people pass. A little girl laughing as her mom and dad picked her up, a happy couple kissing after the man proposed. It's too bad I don't believe in fairy tales, or I'd believe the couple would stay together forever.

But that never happens. Fairy tales are made up myths. They can't save a marriage, and they can't save my mother.
My poor, poor mother, she is as fragile as glass. At any moment she'll break, fall apart. She is often out later than she should be, and works as a waitress in a bar on the corner. Her skin is very pale, her black eyes are a little bloodshot, and her hair is in big clumps of long, dark brown strands with streaks of gray.
It was after the divorce that she started to look like this; a mess. When she was with my father, she always had a big smile on her face. Her short light brown hair would be in piggy-tails, and her black eyes would shine in the sun. Now she spent her days sitting on the couch, wasting money on T.V., and waitressing at a bar. I have to support myself, but when it comes to my father, no matter how she's tired she is, she will always pick me up.
I don't trust my father, ever since the divorce, when I found out why. I was 11 at the time; I was sitting in my room, reading a book. That's when I heard it, my mom and dad screaming at each other.
"You slept with her! How could you Richard, you have a family that needs you!" I heard my mother shout. I heard a 'whoosh' as a pillow was thrown. I looked up from the book and crawled out the door to the stairway in curiosity.
"Edna you knew I was, why act like you don't know," my father replied calmly. I crawled closer to the staircase to see my parents arguing.
"I-I," my mom burst into tears, and fell in to the chair. Then quietly my mom said, "don't you love me?"
My father didn't hesitate, he didn't blink, there was no passion in his eyes, all there was, was a cold hard stare. "No."
My mom's bottom lip trembled; her eyes were threatening more tears to rain down. Then mom said, "I want a divorce."
"Edna lets be reasonable-"
"No, I want a divorce. You slept with another woman-" My mom's voice was rising.
"Edna-," his eyes were narrowing.
"I don't want to hear it-" My father slapped her on her face. I shuttered, afraid, and backed away from the steps. I heard him mumble to her, I couldn't hear. "I don't care if Jay hears us! Hell, let the world know!" Then she got up from the couch, her entire body was shaking. It was shaking from fear, pain, and abandonment of her own husband. "I'm going to call my lawyer now." My mom's voice was quavering.

"Edna, how are you going to survive without me!" My father laughed. His laugh sounded almost…wicked. "You don't have a job, no money, and you can't even hire a lawyer! And even if you did, you know I'd get everything." My mother didn't answer; she just went straight to the phone.
From then on my mom was almost always trembling. My mother got child support checks when I chose to live with her after what I'd heard, but we had to move out of our house since we couldn't pay the rent any more. We moved in to a small apartment on the bad side of town.
After all that, I changed. I changed a lot. I stopped talking for a while; I drifted apart from my friends and started dying my pieces of hair, red, and blue, pink, purple. Only a few streaks I left blonde, like my father's. I started piercing my cartilage and ears; I have a few of them. I also pierced my belly button and nose. I began using more black mascara and listening to more rock bands, no I'm not emo. But I'm different.
Everything is different, and it has been for six years.

15 minutes pasted, my mom wasn't here, neither was my dad, but someone else was. Swoosh. Bang.
A snowball landed on my face with a splat. I sat up in the snow eyeballing for the thrower. That's when I spotted him.
Luke.
I didn't know him, at least not yet.
"Sorry!" he shouted and ran over to me. It was dark but I could see him perfectly. He had greenish brown eyes, he was tall, and had ragged hair almost covering his eyes. He had tan skin although it was winter. "Are you okay?"
"Do I look okay?" I smiled friendly.
"Perfect," he sighed making his breath come out smoky.
"Good," I nodded.
"Luke," He said stretching out his hand. I grabbed it.
"Jay," I said as I got up from the ground and dusted off the snow. "I better be going," I said. I really did actually. For the first time my mom hadn't picked me. And I knew that she probably won't if she hadn't come by now. I started to walk away.
"Wait!" Luke said. I stopped and turned around.
"What?"
"You didn't tell me why you were here." That startled me. People didn't really care where I was. Only my mom and she just sat on her butt all day eating cheese nips.
"What do you mean?"
"Well, you've been here for a couple of hour just laying there. So…" He looked kind of embarrassed.
"You were watching me?" I blinked. He turned red. I looked down at the ground. I sighed.
There was silence, but only for a moment. Then I spoke.
"I'm here because it's my birthday, my dad was supposed to meet me here, my parents divorced. I live with my mom. This is the sixth time he didn't show up. It doesn't matter though, he's a bastard."
"Wow."
"Sorry, you asked." I shrugged and began to turn around when Luke put his hand on shoulder.
"Want to make to make a snow man?" There was a small smile played on his lips. I gave him a confused look. "Let's just say, I know how you feel."
For the first time in a long time a tear trickled down my cheek. I know how dorky that sounds. I mean, get real crying when someone offers you something. The thing is though, for the first time it wasn't for pity. It wasn't because my mom has been having a mental break down for over six years. And it didn't sound forced. It was sincere, he didn't mumble and in his eyes I could tell, even if he was a stranger.
I wiped away the tear and nodded. Next thing I know he's hugging me and I'm hugging back. It's funny how those things happen. The almighty God from heaven finally gives you a break from misery and gives you a bit of happiness, even if it's from a stranger, or perhaps, my angel.

We ended up making a few snow men and after that we stopped by Star Bucks and got hot chocolate. And to tell you the truth it really was, well, great. Luke and I ended up becoming best friends and gradually from best friends to girlfriend and boyfriend and from there… Well you get the picture.
Luke made a dent. And that dent changed my life. And I was happy, especially when he was around.
Maybe that's how that world is; it gives you the bad to make the good better, to make things sweeter.
Anyway, with a little help from Luke's tutoring sessions I got into Brown's college. I had to work 3 jobs so that I could pay for the college education, but it was worth it. I got a Doctor's Degree in rehab, and ended up getting a job working at Jefferson Hospital. I married my best friend.
My mom cleaned up her act, and found a good man at the bar she worked at and started dating. As for my dad, he lost his business after a bad business deal. When he went broke, his step-wife left him for a rich Politian.
I know this is kind of cheesy, but it's the truth. What can I say? I guess only one word, the one name that helped me through it all, and the one person that was my little angel.
Luke.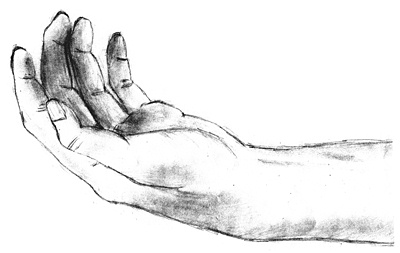 © Shana G., Cross Plains, WI