The Change
April 24, 2009
The sun was just rising on the hills of Paris. I was looking out of the window when someone tapped me on the shoulder.
"Miss Clair. They need you on stage six." The man said a little bored
"Oh…OK." I said trying to sound cheerful
I got up and started walking toward stage six. Every day was the same. The same Sun., yellow. I am always the same the way they think of me. Blond curly hair, brown eyes, and strait red lips.
I walked trough the doors to stage six and saw my manager Stacy.
"Clair, Hi, How are you today." She asked not really that concerned.
"Fine." I said
"Well, I hope you feel well enough to work." She said
"Sure." I said emotionless
"Good because we are making a few changes in the show today." she said
"Changes, like what?" I asked really curious because there has never been a single change in the show since they hired me two years ago.
"Yes, you will be working with some boy." she said
"A boy" I asked a little skeptic
"Yea the producers say it is a great change." She said excited
As soon as she said this a boy stepped out of the shadows.
He had long blond hair that fell over his brilliant green eyes. He had a very athletic body you could see through his blue t-shirt. In other words he was totally and breathe takingly HOT!!
"Hi I am Seth Johnson. It is awesome to meet you. I am a big fan." He said in his London accent.
As soon as our met something inside me clicked and I couldn't look away. "Clair, it's rude to stare." She said
"Oh…sorry" I embarrassed
"It's ok." He said dumbstruck
"Ok. People lets get to work." Stacy said cheerfully
"Ok so today we are going to start shooting for a scene we lick to call 'the it girl' Clair you will be your character named Rose. Seth you will play a character named Josh. Seth josh is a punk that is secretly in love with Rose. And Clair Rose is falling for Josh But she doesn't want anyone to know because it would ruin her reputation." The director Bob said
"Sure." I said
"Sounds like fun." Seth said happily
After shooting I was just about to head home when someone grabbed my arm. "Clair can I talk to you." He said embarrassed
"Sure." I said confused
"Can I get your autograph?" he said
I gave him my signature and phone number. Then I walked away. I was at the gate when my phone rang.
"Hello." I said
"Clair, I have to ask this to you." Seth said
"Umm…Sure." I said
"Do you want to have dinner with me?" he asked
"Oh….umm" I said excited
"I know you are this big movie star and I am just started out but I like you. I've liked you for a long time." He said
"I would love to. How about tonight." I asked
"Sure. Eight." He said
"Yea. See you then." I hung up the phone.
My manager was right he was a change. And sometimes change can be good.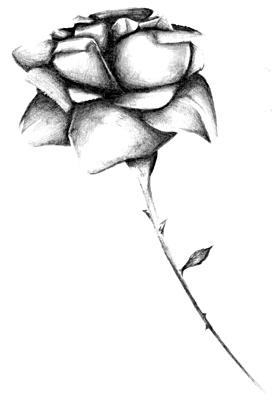 © Yisrawayl G., Philadelphia, PA