Trust Fall
May 3, 2018
The feeling of the wind blowing my brown hair was calming, and my favorite navy blue dress rippled against the breeze. The makeup was light on my face, and I felt free from all the words said about me. I wanted to dive into a different world that had no connection to this one.
The bridge, tied to logs stuck in the ground on both sides of me, was unsteady. Whenever I moved, the bridge copied me, swaying back and forth, back and forth. The ropes were strong, and I leaned against them resting my head, on the top rope. The ground beneath me was concealed by the fog, and there were vines covering the rocky walls of the two cliffs the bridge was hung between. One could only imagine what was beneath the milky fog that covered the ground.
The breeze played with the edges of my dress as I leaned heavily against the thick tan rope, and I imagined what it'd be like to fall. I didn't stop the thought from floating around my mind and spreading to my body. I welcomed it. I let the thought consume me. It felt so different than stopping the thought, like I'd usually do. It felt open. Like I didn't have anything to fear. Not even fear itself.

So, as the thought ricocheted off of every corner of my mind, I got to my feet, the bridge swaying with the movement. I climbed to the second of the two ropes, drew my leg across, settling it back on the second rope. Then I brought my other leg and settled it beside the first. I gripped the top rope with both hands hard. The rope dug into my skin, but I didn't mind the pain. It wasn't much.

I leaned my weight into the the top rope, allowing myself to let go and raise my arms above my sides. I let the small breeze tug me, but I didn't let it tilt me. The thought bumped lazily around my head now, and finally, it was barely noticable. My mind was blank once again, but I knew what I was doing.

There was no regret in my words as I whispered them into the soft breeze, letting them travel through the thin air. "Bring me to the after."

And I fell, trusting the air. The gravity pulled me down, and I went willingly, with my arms crossed over my chest and my eyes closed. The wind pushing my back was strong, but soothing as I fell. My body cuddled into a ball, as I fell, and I wondered my last thoughts, will anyone hear me? Will anyone know? The answer was no. The sound would turn to only a vibration rippling through the air. And that was okay. Life would go on, moving without hesitation.

But, I got my last performance.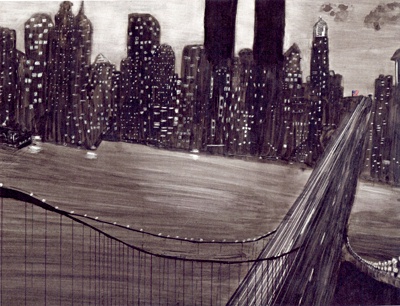 © Breanna Lea B., Richmond, VA