Run On
April 18, 2018
I ran, my hair and skin slick with rain, my vision foggy. Tears spilled down my face. No. No. No! I ran away, from the voice calling out.  It was what I had wanted t do for years, after facing my tormentors. I tripped over a small stone. I would run, run until my life was behind me, forever away. I had pretended for years, hiding away. I had secrets; secrets too big to even tell myself. I hid for so long: now I was to run like the wind. No, I would run until I was the wind.
My pains were lost as my mind focused on my one goal: to get away. I had accepted my father leaving me; my mother becoming an addict, leaving me to fend for myself, and to eventually hitchhike to the other side of the country to my grandparent's house. I had even accepted the failing health of my gran, her slow degrading, and my pop's memory lapses. We had lived for five happy years together, up until my gran's stroke, and my pop getting lost in another town. Then I was carted off to my Aunt Julia's. She's nice enough, but it was the other people. She lived alone in the city until I came along. all she really did was work and crochet. She taught me some important skills, then sent me packing off to Blairston Academy, a boarding school. The school was okay enough, but the kids were torture. I was ridiculed, tortured, teased, abused, and so, so much more, some too horrible to mention. I had a friend; or at least one I thought was a friend. His name was Percival. We were good friends; maybe could have possibly been more. But he turned cold suddenly. His heart had frozen, and he turned on me to extract his fury. I have a long, thin scar running down my face from that, as well as multiple scars on my back and arms. He suddenly came back to himself, and seeing what he had done, he ran, ashamed and frightened. This was the final straw. I ran, to not only protect myself but others.
I fell, face-first in the muddy earth. Groaning in pain, I struggled to get up. I finally gave up and collapsed into the earth. I give up. I give up. I felt three more tears drop before I sunk into a half-conscious state. I laid there for probably more than three hours, but then, I felt a strong hand heave me up.
A cloaked figure stood before me. His hand was cold, ice-cold, like death.  My bride-to-be. It is I, your truest love, Thanatos. Come to me, and all of your pains will cease. Come, oh Bringer-of-Destruction, my Persephone. We will live together, rulers over death, monarchs of millions. Everyone will pay us their due. You can have your revenge, my sweet. Come to me... you can stop running now, love. 
"I am coming, Thanatos, One-of-Death. I am coming." I muttered. A faint beeping sound reverberated through the scene. I awoke from my dream. I was hooked up to a machine, one measuring my heart. I heard the flat noise of the machine and smiled faintly.  Here I come. I can rest now. I am coming, my love. Death.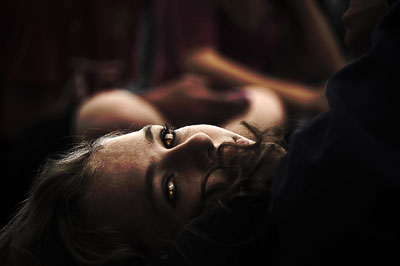 © Calvin C., Salt Lake City, UT