Ever the Same
April 17, 2018
         The boy held his head high, eyeing his younger sister as a sneer contorted his face. Scrunching his nose, he watched intently as the plane flew into her mouth.
         "Girls have cooties," the boy proclaimed in disgust, "I hate them."
         The boy's expression changed steadily with time as his nose grew, his eyes widened, and the beginning traces of hair began to sprout from his chin. His crystal blue eyes drifted to the girl that sat laughing, a gleam in her smile and the remaining traces of wit still on her tongue.
         "I hate them," he mumbled, his arms crossed in defiance.
         The boy's posture shifted as his arms grew thicker, his legs longer, and his back stronger from years of facing challenges and troubles. His stance changed furthermore as he leaned in, a kiss forming between him and the girl, a moment surreal and new.
         Again, the man's hands moved, now lightly clutching a box while his knee planted itself painfully into the ground.
         His heart thumped and expanded further with each day, savoring the moments with her as his own features, certain in their experienced position, finally stopped changing.
         But, the man's face altered yet again as his black eyes stopped, watched helplessly as the door slammed behind her, and blurred as a shaking wall of glass slid into view. She was gone. Dark circles claimed the place beneath his eyes as home, and an exhale rattled his skin. Hands clenched, veins popping, blood burning. But his eyes soon betrayed him and the glass shattered as tears began to create groves down his face.
"I hate them," he whispered.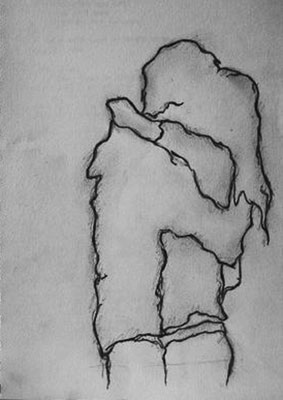 © Nicole B., Newcastle, WA