A Lovely Day
April 17, 2018
         "Isn't it a lovely day?" she cooed, her voice a warm mixture of honey and milk. The boy nodded quickly, feeling the sun bathe his face. His new suit weighed down on him relentlessly, but his thoughts were soon focused on his sister who came bounding up to him as he stood quietly in the doorway of his house.
         "Hey there, squirt! It's a gorgeous day, isn't it?" Her face was lit with enthusiasm and brightness, but her eyes seemed too heavy to belong on her face. He refrained from rolling his eyes and quickly set his head into the same up and down motion.
Do I have stupid written on my forehead? he thought. Just because I'm younger, doesn't mean they have to treat me like I'm a baby. With his sister and mom looking at him out of the corner of their eyes, they began to talk quietly, all the while throwing the occasional smile toward the boy. He caught small whispers of the conversation, sentences consisting of snippets like "be fine" and "make it through". He knew what these words were referring to, but he continued to bask in the sun that blanketed his face, squinting against the fierce heat.
          Once the car pulled onto the dirt road, the boy's mother quickly ushered him inside. Feeling the smooth ground glide beneath the wheels on which he rode, his mind drifted to more troublesome times, of days that he longed to forget. His hands began to intertwine themselves, a habit developed long ago. But as soon as the journey had begun, the car came to an abrupt halt, causing the boy the lurch forward slightly.
          His sister got out of the car first, a tendril of black lace flying behind her as her dress caught a hint of the breeze that flowed calmly through the summer air. He shifted his eyes to the chairs that rested strikingly out of place in between the green trees and flowers that protruded from the ground. Pictures and small candles perched on the few tables that stood, illuminating a face too familiar to think about. The hole in the ground beside them looked ominous to the boy's eyes, and the long box beside it gave him an even deeper feeling of heaviness.
        The boy was quickly snapped out of his own thoughts as his mother pulled his arm gently to a seat next to hers, wiping away a tear that she'd intended to remain hidden. With a quick prayer, the ceremony began and the old man's words droned on, echoing soft condolences and claiming the boy's father to be a good man, one that didn't deserve to pass so painfully and in such a tragic manner.
        The boy's eyes grew heavy and a sense of boredom overtook him.
        At least they don't know I did it.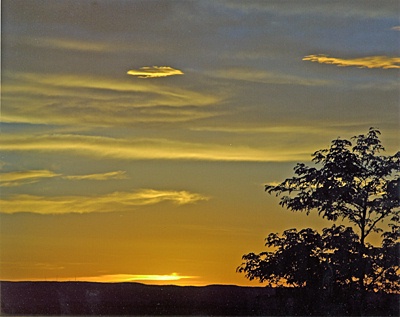 © Elizabeth B., Wichita Falls, TX