My Little Angel
April 8, 2018
I still remember. I remember his bubbly laughter that made the clouds disappear and the sun shine brighter. He had this toothy grin that made even the meanest of old men crack a smile. The sparkle in his five-year-old eyes that made the ocean blue even more captivating as you looked into them. He was the light of my world. He was my son.
As I sat in the hospital room, Jamie, my son woke up from his nap. I watched as the tears slid down his chubby cheeks to the pillow his head lay on. "Mommy..." he said with a sniffle "Are you going to leave me?" I look at my frail, ghostly white five-year-old boy with watery eyes. "Of course not my little angel!" I cried out. "I will always be with you. You'll never be alone because no matter how far apart we are, I am a part of you as much as you are a part of me. Nothing will ever change that!" As I said this I gave him a bear hug filled with all the adoration, sadness, and love I have ever felt.
"Jamie!!!" I cried out his name hoping he hears me, wherever he may be. I tried to catch my breath as my cries get softer and the tears start to fall. I fell to my knees saying, "Jamie...Speak to me. Come on...Speak." My cries turn into pleas as I hold his cold, limp hands. "I love you...I love you so much my little angel." Those are the last words I whisper to him as the doctors rush him away.
I walk through the narrow hallway in our small apartment. It was filled with pictures of us playing, laughing. When I look at them I can still hear his laughter, his voice, his heartbeat. Everyday I wake up wishing his death was just a nightmare, but it was real. Seeing his face, plastered in a metal picture frame frozen in time just gets too hard. Every word, every cry of pain echos off the walls, reminding me of what I have lost. "I love you Jamie." Saying these words to the child in the photograph became a ritual I repeated everyday. A ritual I will never stop.
I still remember. I remember his laugh, his smile, his eyes. Most of all I remember the eternal love I have felt for him, my beautiful baby boy. I will never forget until we meet again. Until I can say "Hello my little angel. I told you I would see you again." I will take his small hand in mine and walk to our new home.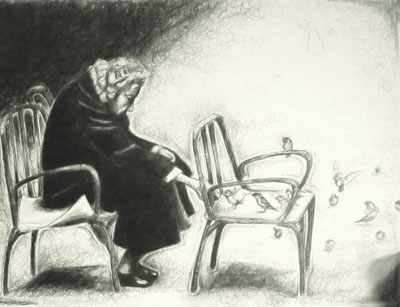 © Anna P., Poulsbo, WA