Living Below the Line
March 18, 2018
Poverty. This is what I live in.
Poverty line. This is what I live below.
Someone once asked me, "What is Soweto?"
Soweto is sharing a port-a-potty with 200 other people.
Soweto is getting up in the morning before the sun rises, on a stained mattress and filthy blankets and knowing I have to work. I fetch water for my brothers and sisters to bathe. I fetch water for us to drink.
Soweto is a smell of urine, blood and filth. My baby sister wets her bed every night. The cloth diaper I made for her isn't enough.
Soweto is being tired before I arrive at school. Every morning I fetch water for my family, wake up my siblings, and feed and dress us all. I have no energy by the time I get to school. I sleep during class, because like all the other girls, I spend all night laying awake, protecting my body and few belongings. Our bodies do not belong to us. Our bodies belong to older men. Men who have more money than we do. These men come with the promise of an iPhone or money, in return for our bodies. Many girls in my class are pregnant. Some have children as old as three. We are in grade 9.
Soweto is watching my younger sisters go to school, hoping they will not be faced with the same challenges as every other girl in our community but knowing they will. I hope when they go to school they learn. I watch my brothers go to school. I hope they will not turn into the older men in our community but I realize they will become like every other man in our community. Enslaved by alcohol and drugs.
Soweto is taking turns with my mother on cold nights, tending my fire and others. If something catches fire, all of our few belongings will go with it. We'll take the rest of our village with us because only a tin wall and palm hair separate my family's room from our neighbors' on all sides.
Soweto requires a lot of hope. Hoping is something everyone can do, no matter how much money you have. I hope for many things. I hope someday blacks will be equal to whites in South Africa. We have laws to support equality, but people's hearts and minds are still catching up. Yesterday a white boy called me a monkey.
I hope our community shapes itself up, people can get jobs, and people will not live off of recycling and food scraps. I collect food scraps from under the tables where white people sit. I collect them the same way the dogs do. The only difference is the dogs get their food scraps in a bowl.
I hope for a job. I don't want to follow in my mother's footsteps. I want to follow in the footsteps of a life worth passing on and remembering. I hope for education. A good education. Not the free one the government is so proud to provide. 1 tired teacher for 70 students is not going to teach us enough to get a job.
I hope for an education to teach me how to live outside of this township. I hope to become a lawyer. I hope to fight for those who cannot fight for themselves. I will not charge any money. I will help communities like mine.
I hope for a stable government. Not a corrupt one. For a president who is literate. For police who do their jobs, not for officers who ask for money to go in their pockets.
My family does not live only with sadness. We find fun things to keep us occupied. We play hopscotch with sticks from the trees. We laugh and enjoy each other's company.
We see others around us who have the same as us, and we see some happier and some more depressed. You don't need money to live a rich life. Friends and family always are right by your side. Money is not.
Soweto is the place I live. Where do you live? Imagine yourself living my life. Can you picture it? Would you lose hope? Or would you hold on to every bit of hope you can find?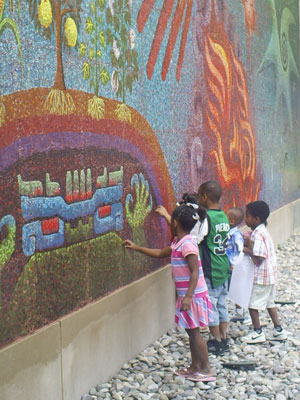 © Evelyn N., Hurst, TX