The Mystery of the Stolen Bike
February 9, 2018
It was early August when Desha saw her dad coming home, bringing with him what seemed like the family's old bicycle. It did not take her very long to notice that it had been almost fully repaired. Knowing that it was very small for anyone else in the family, he knew that it must have been a gift for her. Smiling, her dad came towards her and gave her the bike. She politely said thank you, but Desha was not sure if she really wanted to ride it. She had never tried before, and besides there were many people in her neighborhood who she knew would make fun of her when they saw that she was trying to learn to ride the bike.

The next day came, but Desha still wasn't sure. She went downstairs, quickly ate her cereal, and went back to her room, hoping her dad would not bring up the bicycle. However, an hour later, as Desha was listening to music and relaxing in her room, her dad called her from the backyard. "I'm coming," she answered, and reluctantly went out the door to the backyard.

There her dad stood, waiting for her with the bike in his hand. Desha thought at that moment that he would teach her how to ride the bike. However, that was not the case. Her dad told her that he had to go on a week-long work trip, and that she had to start learning to ride the bike by herself. Even though she was not that confident, Desha had finally made up her mind and decided to give the bicycle a try.

That very afternoon, she tried for the first time to ride her bicycle at her own backyard, and at first it was even harder than she thought it would be. Desha had a lot of problems keeping her balance, and could not stay for more than ten seconds without falling. After two hours of practicing, her brother came to visit. After seeing how hard Desha was trying, but with not too much success yet, he decided that he would help her. He told her to come with him to the local park so he could teach her how to ride the bike there.

They did so for for a week. By the seventh day, she had fully learned to ride her bicycle. That Sunday evening, her dad came home. Desha ran to him.

"I learned to ride the bicycle, dad!" she told him.

"Well done!" her dad answered. He was very proud of her.

The very next morning, he told her that he would take her on a short bike trip. They would travel from their hometown of Tribunj, to a nearby town called Vodice. The distance between the two was 3.5 kilometers, or roughly 15 minutes. Desha accepted and they left the house directly after breakfast. Even though by now she had learned to keep her balance and take turns, Desha still could not go so fast, and the trip took more than expected. After they had completed about 75% of the trip, Desha was exhausted, but still excited about the short trip and happy that she finally had learned to ride the bicycle. They decided to stop at a small store to buy some drinks and to rest for a few minutes, leaving their bikes outside.

After 10 minutes, they came out of the store, only to see Desha's bicycle gone! They were sure no car had passed, and only two other people had been at the store with them, a tough-looking middle-aged man and what looked like his son. Immediately they ran out towards the back of the store to quickly get Desha's dad's bike, which was tied near the back entrance, so that they could catch the thieves of Desha's bike. They found it just where they had left it, tied around a small tree, but to their shock, the tyres were pulled out and taken. The thieves had predicted that Desha and her dad would hurry to the tied bicycle, and had gotten rid of the tyres to buy themselves more time to escape. Desha's dad immediately called the police.

They knew that the man and the boy were the only people in the store except for the ones who worked there, and they were sure that their two bikes had been the only ones parked outside. Desha's had been left untied as they were only going to rest for a few minutes and after all it was nowhere as expensive as her dad's. Because of this they knew that the man was on his feet, and only his young son was riding.

After about 15 minutes, the police arrived. They searched in both Tribunj and Vodice, and even in other nearby towns. Night soon arrived, and so did the next day, but with no result. Then at around noon, the bike was finally found behind a bush, about ten kilometers away from the small store. Everyone was certain that the the man had seen the police, quickly hidden the bike, and run away with his son.

By the end of that summer, Desha had learned to ride a lot better and faster, and Desha's dad had added new tyres to his own bicycle. However, the two thieves were never seen again.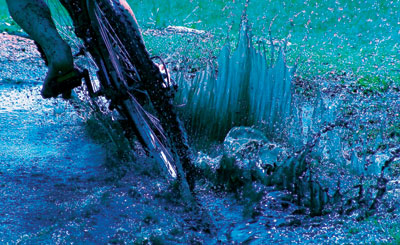 © Reuel M., Austin, TX