Rock Bottom
February 18, 2018
He bought me from my last owner, and I was well taken care of. My new owner loved showing me off to all his teenage friends. He polished my shiny red exterior and spent hours tinkering with my 396 V8 big block motor. His friends loved to cruise around town with us. We spent many evenings riding under the star-filled sky. Blasting music so loud I thought my windows would shatter from all that bass. That summer we went on many long drives. Always going to places where I was among other muscles cars just like I was. He was very proud when we took first place in the car show." Best in class," 1969 Chevy Camaro RS SS is what that trophy said.
    He always took such great care of me. I knew we were going somewhere special tonight because he washed and waxed me better than ever before. When he got in this time he was dressed in a black tuxedo. He looked sharp and his pretty date was dressed in a flowing long gown. She made my interior smell like orange blossoms in the rain. Two other teens dressed up just like my owner hopped in and off we went. The other teen boy pulled out a bottle of whiskey and what looked like a cigarette. All four of them got excited, and started shouting "It's time to party". They started drinking and smoking acting like fools. They should have gone straight to the dance.
    My owner was driving crazy fast, swerving all over the road. This whiskey and pot must be causing this because he always drove me to such care. The girl in the back seat won't stop screaming that she wants to get out. I do wish my owner would have just stopped. He was laughing, hooting and hollering. He just went faster while taking another shot.
     I've traveled that sharp curve many times before but never at this speed, and he just keeps giving it gas even more. He's impaired to the point where he can't even see. I saw the guardrails coming before he did, and he never slowed down at all.  We drove straight into those guardrails and flew right through them at such a high rate of speed. That cliff was so long and steep as I tumbled over and over, all the way down hitting rocks and trees. I heard blood-curdling screams and yelling until I stopped. I landed on my roof, my windshield completely blew out. My passengers all ejected, none left in my seats. If they only put on their seatbelts. It takes seconds to click in. It's so eerily quiet. No one is making a sound. No movement, no moaning, no breathing at all. I'm sure all of my passengers are dead! Prom night should have been a memorable evening for them all. Except drinking and driving is the cause that all of us are scattered around this mountain. So here I lay, a heap of junk at the rock bottom of this lonely mountain.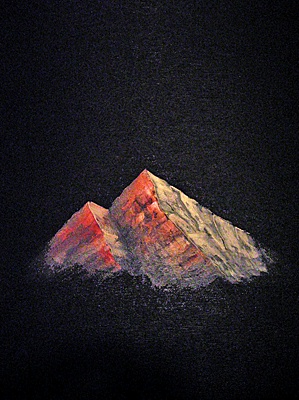 © Neven U., Zminj, Croatia