Yearning To Dance
January 24, 2018

Perspiration, determination, and passion are the thoughts that run through my blood as I dance. The feeling of the adrenaline flowing through each limb makes my body move in inhumanly ways. Love is just an understatement of my need to dance. At the age of three my mother enrolled me into one or two pre-ballet classes per week, but at that age I had no idea what type of passion I would build in the near future. As I began to mature I began to develop a deep passion for dance. Each time I dance there's a feeling deep down in my cells and atoms that make me feel better than ever. Each time I dance I crack the shell that I put myself into.

There's always been a light that turns on whenever I walk into my dance studio or on a stage. It's almost as if when that "light" turns on everyone disappears and I am free to do what my heart leads me to do. All of the tension that fills my life with frustration just drowns. That feeling/ moment is the reason why I fell in love with dance. The emotional connection between me and dance hasn't always been as strong. When I was younger I didn't connect with it as much as I do now because I didn't face as many hardships as I do in my teenage years. Once you mature there are plenty of reasons behind the overwhelming teenage years, such as bullying, insecurity, anxiety, depression, drama, work load, and lack of sleep. These negative situations tug me down when I'm in my happiest times of life. My insecurities haunt me day and night, begging to be altered. My work load swallows me whole and spits me out on the side of the road. My lack of sleep acts as shackles on my ankles which slow me down and begin to drag my daily motivation downhill. All of the troubles that I go through vanish when I dance. The millisecond that I place my foot on the navy blue carpet my face enlightens with a smile. I feel each problem float away from my body as I flow through my movements; as if I'm in a new dimension where I am full of freedom and have nothing to stress about.

My life seems perfect as I enter the dance studio. Perfect friends, perfect life, perfect world. The atmosphere when I walk into any dance studio is peaceful, yet sometimes tense because of the competition and envy in particular dancers' eyes. I find when someone has tension with others it is because they aren't thinking on the same track. One person may be only thinking how to out dance there neighbor, but another person may have the same passion for dance, but they are in a world of their own focusing on how to improve themselves instead of overpowering others. I relate the most with the second dancer who is aware that she can achieve her goals without trampling over others in the process. It is guaranteed that every time I have to dance in a new area I make at least one lifelong friend because of our emotional bond and passion for the same sport.

I stare at myself in the seven paneled mirror, standing there in my black leotard and pink tights, eager to start class with a broad smile that expands from ear to ear. When I begin dancing my diaphragm transforms into a fluid. I am able to mold myself into different shapes and motions on the smooth gray marley floor. Once my instructor plugs the aux cord into her telephone I know class is about to proceed. Despite the fact that without music I would still have the same adoration for the art of dance; however, when music is added to any performance it enhances it. Songs with powerful demanding beats are what I yearn towards. When the music is appealing I have a greater chance of being more free when I began to move. During my practice hours during the week my love for dance remains a constant. It's a routine, sleep, eat, dance. Although I might feel like this schedule can be overly exhausting at times, there is no way I could ever retire it.

Dance is a universal art that is used to communicate throughout the world. The flavor of the music affects the way I execute my body. If the song is upbeat and fast tempo my movement will reflect. Everyone has favorites, certain dancers enjoy ballet other dancers love hip hop. In my case I connect with modern and contemporary dance the most because I have the most freedom in order to bend the rules. Other styles of dance like ballet have a rigid foundation of rules, where the rules are delicate and much easier to break. Hip hop has never mixed with me, yet I can feel myself improve.

The daily flow and movement of my muscles and blood are a must for me to feel complete. Without dance I wouldn't be who I am now. I wouldn't be able to survive. Dance is my healing force that I look forward to at the end of the day when I've had a bumpy road kind of day. Without dance I would be broken because of all of the piling problems in my life. Thanks to dance I am still breathing, functioning, and smiling.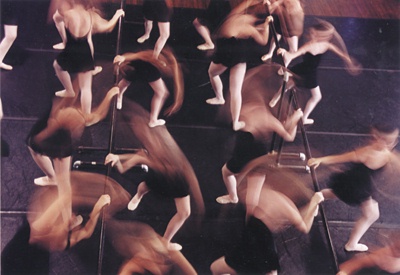 © Sophie K., Cambridge, MA