How Did it Happen
January 12, 2018
"How did it happen? How did you end up living under this bridge?", asked Carolina. "Where did it all fall apart, where did his life go wrong?', she wondered as she sat next to him on the park bench. Charles did not have an exact answer to give. He shook his head and could not pinpoint exactly where his life changed. He searched his brain for a time and place ,he started with the beginning of his college days.
He seemed to be on top of the world, he was the president of his fraternity at Harvard and he was the top of his class academic wised. He was maintaining all A's except for that one B+ from freshmen year. On top of that he carried his team to the championship and threw the winning pass back in '99. As the college years went on he fell more and more in love with a sweet, beautiful girl named Carolina. The type of love they had was only seen in movies. They had a connection like no other, when she walked in the room, his eyes brightened and everyone in the room could feel the affection in the air. It had been known for years that they would end up exchanging vows and living happily ever after, and that is what they intended on doing.
As expected they walked down the aisle two years after college and moved into a spacious, beautiful house. They then filled the house with pets, fond memories, and a swing set and toys in the backyard. Charles had earned his way to the top position at his law firm which had been his dream. With extreme hard work and hours put in his dream became a reality. But all the while he was at the office, he was missing out on family events. He remembers his job taking over and he allowing it, it was one of his biggest regrets. He couldn't see then what he sees now, his family should have been his priority. He missed Tommy's championship baseball game, his team won but Charles was the missing face in the crowd. " Dad! Did you see my winning slide into home plate?" "I'm sorry I had some important meetings this afternoon, but it's not too late to celebrate!" Tommy was analysed and sulked back to his bedroom. He hardly ever spent time with his kids as they got older and he and his long time sweetheart had grown cold and far apart. Eventually Carolina had had enough and she left him. He was forced to move on with life and continue as if nothing happened. He tried to fill this void with alcohol. At this point his children did not want to talk to him, his wife remarried and he began to slack on the job. The last straw was the losing of his job as he remembers it. It was the only thing that continued to get hime up in the morning. Charles said to himself, "If only I valued what I had right in front of me". He sighed and dropped his head into his palm. " The ending is all a blur to me, but i'd say skewed priorities. Skewed priorities are where I fell apart."
Years had passed and all connection between Carolina and Charles was severed. One day Carolina stumbled upon her past love. She didn't recognize him, for he was ragged and drunken. She only knew because of the smile across his face when he saw her this very day.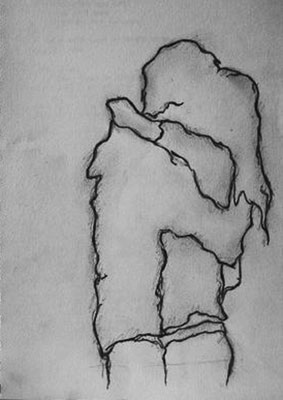 © Nicole B., Newcastle, WA