The Unexpected Fall
January 7, 2018
I walked down the hallway in a trance-like state thinking about the tests and homework that I need to complete. This is why I didn't notice the overflowing backpack that sunk on to the floor instead of leaning against the wall. I caught my foot in the middle of the bag and plummeted to the dirty floor, but as I was falling something grabbed my arms and pulled me up. I was discombobulated from the series of events that had just unfolded until I heard someone convey "hey I'm Alex." I looked up and managed to utter "hi I'm Mia," we both left the conversation in a hurry because the bell had rung summoning us to our next class.

Later that day I saw Alex on the bus, I had a sudden burst of courage and walked over to the seat that Alex was occupying. "Hey, your the kid that saved me from falling on face in the hallway right?" I asked confidently because I already knew the answer but wanted to start a conversation. The icebreaker that I chose worked because we talked until we had to get off the bus, and that's when I discovered that Alex had moved into the house across from me. The next morning we struck up a conversation that ended up with us hysterically laughing. Weeks went on like this, and our friendship had grown like two vines wound around each other Alex had become a part of me and I a part of Alex.

Years had passed and Alex and I had created the everlasting bond that only true friends knew of and could describe to others. I could tell what Alex was thinking about just by looking at the expression that had formed, I knew everything about Alex and Alex knew everything about me. A few weeks before graduation Alex approached me and asked me something that would change my life. "So...I…was wondering...if you would… wanna go out...sometime?" Alex managed to mumble. The excitement that filled me can only be described as the butterflies that normally reside in my stomach were released and flew rampant through my entire body. I said yes and later that night we went on our first date. When Alex picked me up I was stunned, this was the first time I had seen Alex dressed up in something other than sweatpants. I was taken to a really nice Chinese food place where the lights were designed to resemble glass umbrellas. Alex and I laughed while thinking about all the memories that we had created over the years. As the night came to a closing Alex brought me back to my house and we walked up to my doorway. We stood in the doorway saying our goodbyes when Alex leaned and our lips became entwined.

I looked down at my white dress that was wrapped around the curves of my body, and I looked up at Alex with my emotions starting to flow out of my eyes. We went through the wedding ceremony when the priest said to me "You may now kiss the bride," I leaned in and embraced Alex's lips with mine. After the ceremony, we went to the reception where I stood up and explained to the guests the story of when Alex and I first met, and how we were the first openly gay couple in our school.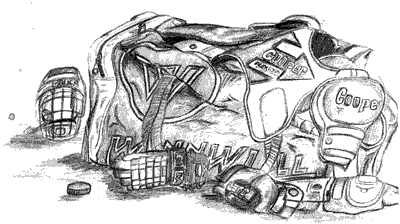 © by Casey C., Rockport, ME