A Strong Brick House
December 21, 2017
The air felt rigid and tense as the large doors opened, revealing the ardent figure of Sarah Wilfred, my mother. The people studied her as she walked passed them, down the aisle of the courtroom. Wearing a sleek black dress and heels, she looked of unfaltering power and control—though we both knew it was still hard for her to be strong.
Sitting in front was her husband, clad in the bright orange color that condemned him. At first his head angled toward the floor, the sound of her name slowly playing in his ear. When her legs crossed his vision from underneath the table, he enchantingly raised his chin. Their eyes met like they used to as she sat at the elevated witness stand, their unbroken gaze connecting them both. Her stare, of heartbreak; his stare, of shame. They looked at each other as if the world was falling apart around them, and they knew exactly why. She knew what he had done, she had seen the evidence, the crime scene, and the testimony. But most of all, she'd seen it all unravel before her eyes. She sat down swiftly, after taking an oath that would inevitably ruin the life of her husband. It would lock him away with concrete walls facing him on all sides—and she knew that. All eyes aimed at her now, waiting in a screaming silence—understanding that nothing would ever be the same as soon as a word left her lips.
"Hello, Mrs. Wilfred," said the prosecutor, pacing the around the old, dark maroon carpeting. "Thank you for agreeing to speaking with us today." She gave a nod to woman pacing before her and reached her hands over the microphone to adjust it to her face.
"I'm very sorry for your loss, I can only imagine what you're feeling now," the lady delivered to Mrs. Wilfred, though her words felt thin and shallow. Each question asked by the lawyer put one more wound on my father's back—and every time she replied there were ten more. There was no more hiding what she knew inside her, no more keeping this in. She was there when it happened, she was there to see from the corner of her tired eyes, the sleek knife, her small son, her husband holding both.
***
I remember the night it happened, the small wooden house I lived in slowly changing into a crime scene; it started off so sweet. My mother tucked me into my Superman bed sheets after I ate my dinner, then she put my brother to bed. The night was effortless, I slept and dreamt about things I thought I'd never have to understand. Then, in the middle of the night, I heard unsettling noises coming from the outside of my room. The bright light shined through the doorway from the hallway and I woke up to see a thick shadow move swiftly across. I pulled the soft covers off from over me and immediately felt the cold air drift up my spine. I remember the sounds of screams from my mother when she saw what my father had done. Standing up from my bed, I walked over to peek my head through the cracked doorway of my room. She ran to the kitchen where my father stood over the body, his hand slowly releasing the knife from its grip. When it hit the floor, the metal rang against the tile and the lamentable blood splattered in every direction. She knelt over the lifeless body, and slowly realized there was nothing she could do to help her son. That night was the only time I'd ever seen my mom's brick house crumble, my father had finally broke it. He was gone and the house felt smaller.
The rest of the night was loud, and by morning the house was filled to its brim with people we didn't know. Police officers, detectives, random people in suits—more and more people piled in through the front doors of our house. My mother built herself back up—enough to stand and answer the endless questions asked—but she was now hollow. She still loved my father, though I couldn't tell why she ever did. He'd taken all she ever had, broken all she'd ever made, and ruined every dream she'd ever imagined.
How did it ever come to this point? Why did this have to happen to her? I thought to myself as I streamed my fingers against my silk tie and sat on the cold aisle seat. The case dragged on for weeks and soon I began to lose my own concept of time. The jury finally gave their consensus, and the judge declared it to the room. My father was guilty, but we didn't need a trial to figure that out. This process only stirred the storm around my mother; it only tested what else she could take.
When the courtroom was dismissed, I saw my father fade through the crowd; his large figure getting smaller and smaller as he left through the wooden doors. I looked around the room, through the swarm of moving people and saw my mother, her face showing she'd finally reached a sense of clarity. We walked out and saw the sun finally shine for the first time in a while.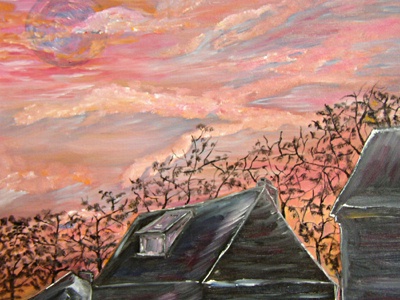 © Lauren M., Scotch Plains, NJ