Let Them In
November 8, 2017

Daughter:

"Why can't I fit in? Just because I look different, does it mean that others wouldn't accept me?" I asked mother, my eyes welled up in tears.

Staring into the wardrobe mirror, I caressed my skin- dark and tanned, carefully avoiding the blue-black bruise across my left eye. Gently patting the ice pack over the eye, I could feel a searing, stinging pain.
"What have I done to deserve this?" I thought to myself, puzzled as to the reason, still staring at the ground. The trauma of being beaten up, punched and even kicked was too overwhelming for me to understand being the young child I was.

Mother, with a smile plastered on her face, pat my shoulder, trying to ease the unbearable pain of me, her young daughter. Her eyes, gleaming, were etched on a book, tucked away in the mahogany shelves across the room. Without hesitation, she reached for the book, clutched it to her chest and then handed it over to me.
The book was frayed at the edges and was stained a golden-brown. The rustic smell shot into my nose as I gently flipped the pages of the "strange" book open. As I turned the pages, it dawned on me that it was a journal filled with scribblings and pictures depicting people whom I could not recognise. Before even turning another page, mother whisked the book out of my hand, volunteering to read it for me. Never would I have ever imagined that this "strange" book would change the course of my life completely. Mother began.
Mother:

Perseverance-
Thomas Alva Edison-1847. In his younger years, Thomas was a hyperactive child, only attending 12 weeks of public school. He was prone to distractions and was deemed disruptive and obstreperous by his teachers. He was forced to be home-schooled as he had a hearing impairment, shamed and laughed at by his fellow classmates. Although he was ostracised by other children, he did not let that tie him down. What made him stand out from any other person was his steadfast attitude. Do you think he would've succeeded if he had given up? The fire to succeed was what spurred him on to surmount the challenges. Despite the fact that his teachers told him that he was "too stupid to learn anything", he invented world-changing devices that we cannot live without today! With every mistake made, he turned it into a learning point to improve and not an excuse to falter.

"I have not failed. I've just found 10000 ways that do not work"
Passion-

Walter Elias Disney-1901. When we think of success, Walt Disney comes to mind. Although being the most influential pioneers in the field of children's' entertainment, his life was filled with difficult challenges- even failures! Having come from a dysfunctional family, Walter was left to fend for himself and was bankrupt by the age of 22. He moved to Hollywood, escaping the less than idyllic life in Kansas City, in hopes to begin his own company. His passion in animation and belief in his work drove him to overcome the setbacks of being rejected by multiple corporations. He stayed true to his works, remembering the obstacles he had to surmount to get to where he was and this paved the way for him. His most famous works- Mickey mouse, Snow White, Alice in Wonderland etc. portrayed positive images for young children and also a strong sense of belonging which he lacked in the earlier part of his life. Just imagine a childhood without his stories- simple yet riveting.
"When you believe in something, believe in it all the way, implicitly, unquestionable and that makes you unique"
Bravery-

Aung San Suu Kyi-1945. A politician. An activist. A mother. A wife. A daughter. Aung San Suu Kyi had many roles to fill yet she fulfilled every single one exceedingly. Born into a family of politicians, progressive thinkers and educationists, Aung San Suu Kyi started expressing her frustrations over the restrictive practices. She gathered her courage to speak out publicly about freedom against the powerful dictator U Ne Win and managed to rally supporters of her own. Not long after, the Burmese Military took notice and were suspicious of her agenda. Her nightmares manifested when they forced her into house arrest and cut her off from the rest of the world for several years. Being a strong-willed and brave woman, she refused to leave the country, pledging herself to fight for the rights of the civilians. Her objective was to ensure the rights of captured prisoners and before achieving that, she would never back down. Till today, she has been an icon of bravery and strength for she would have never let her own people suffer.

"You should never let your fears prevent you from doing what is right"
Mother to Daughter:

Strength in the face of adversity-

To my daughter, I too have faced all the obstacles that you will soon go through. The feelings of being helpless and worthless have once dragged me down, stripping me of my dignity. Others will try to undercut your success, highlighting all your flaws but always remember that these flaws make you unique and special. Race, religion, belief, gender, ethnicity are all features that gives a person their identity but it all boils down to being a human- you and I, the choices we make and the effort we take to get back up when we fall. Unique
Juanita Malrow-1972. Does colour really determine who I am? Being called filthy and discriminated against almost every single day had a huge impact on my self-esteem. Living in a country as a minority also made matters worse as I had no pillar of support, no one to guide me through the adversities. Wherever I go, people never fail to throw a stare at me. My only wish was to fit in, just like everyone else. I made this journal to reflect, reflect on the challenges. These stories create a platform for me to feel motivated. My passion of writing was my way of being in my own element. Every night without fail, I pour all my aches into this book and remind myself that better days will come! Be bold. Be yourself.
Daughter:

Lilian Malrow-2001. Why would I want to fit in when I can stand out? It is hard to imagine that a little girl like me would understand anything about these stories but in age I will understand. Being different is what makes you beautiful. People may hate you for being different and not living up to society's standards, but deep down, they wish they had the courage to do the same. Love yourself no matter how different you feel, being unique is key!
I am strong because I know my weaknesses
I am beautiful because I know my flaws
I am wise because I learn from my mistakes
Let me in or shut me out,
I'll embrace myself without a doubt

"To be yourself in a world that is constantly trying to make you someone else is the greatest accomplishment"
-Ralph Waldo Emerson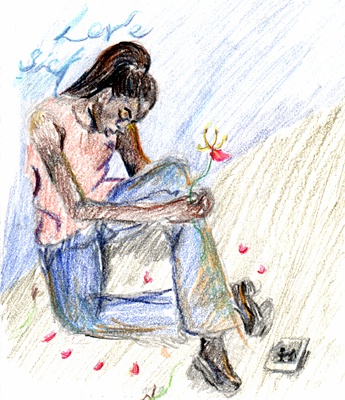 © Sherell B., Philadelphia, PA