Shifting Forms
October 7, 2017
I pondered on the strange wreath I had woken to with at my side, with a note attached to it in a foreign tongue-Et corona in tenebris magicae est tibi nunc, quia prudenter uti.
Pondering the wreath's appearance, a thought halted me from any other possible thing.
" The wreath of power. I read about it in a myth a long time ago..." That was the trouble. I had thought the wreath was a myth. Then another thought inched itself  forward into my mind.
"I thought it was a helmet of darkness, not a wreath." Hmm. That was strange. But, in my mind, I pushed the nagging thought away, just like an irritating gnat, and stared, perplexed at the wreath. Wearing the strange laurels, I stood, staring at my reflection, and suddenly could not see myself. Instead, I was facing a crossroad, and one path was clear and looked rather straightforward, the other was overgrown and twisting with underbrush, thickets, and other possible dangers. In my path, holographic-like letters floated in front of me, reading: DE VIA ET NE IMAGINARIA LUDAFICTIONE, SI MORS EXPECTET. The words then translated into English, TAKE NOT THE ROAD OF DECEPTION, FOR SURELY DEATH AWAITS YOU THERE. Heading the warning and following the instructions, I went off in the direction of  the overgrown path. Upon contact with this strange vegetation, it melted under my touch.  Path had been to travel upon. Rather than rough travel, I went off at a lively pace, and was wondering how the "easy" path would have fared. Probably not pleasant, was the obvious answer. Following a sort of homing sense, I went the direction the wreath  was showing me.

"A strange land I am traveling in," I whispered to myself.
"It is almost a dream-scape in a odd, dark way." It was indeed a dark land. I was traveling in a place of darkness, a land so desolate it was almost pitiful, except for the twisted beauty of it. The trees were glowing silver and other metallics, the grass soft and plush, the sky a light gray like it was after a rainstorm. Eventually, after many a hard hours of hiking, I was stopped at yet another crossroad. This time, a clear message popped up, in bath the tongue of this and and in English: Elige semita in domum tuam: et sede hic et rectores orbis terra somniabunt. Elige ergo, Melania. (Choose the path back to your home, or stay here and rule the land of dreams. Choose now, Melania.)
With this choice, I decided to say here, in this land of dreams, aiding the dream-travelers, and to stay with my wreath, ruling the lands of possibility, and searching for the ones I have lost: finding those who have the gifts, and to teaching them. I know I will never be able to take the path back, to travel the path more taken, to follow many other's footsteps. I regret this not, but I  know I will never die, age, become ill, or be able to leave.
Someday, in the future, I will stand at the gateway to the two paths, holding my child, waiting for the one who would look up, and see the other path. They will catch my eye, and step through, never looking back, into the land of dreamers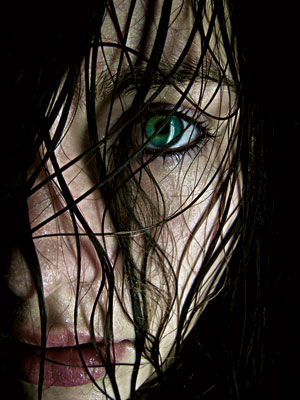 © Jorrdyn K., Washougal, WA