Broken Verses
October 6, 2017
**
Where am I right now?
Sitting in our smoky kitchen, brewing cardamom tea for my suitor's family.
Does my current location give me happiness?
I feel as though my soul is being compressed, and all my dreams are being squeezed out of me.
Where do I want to be?
Within the four ink-stained walls of a classroom, safe and secure.
I feel my weak heart throb, as my good heart releases waves of euphoria within me. I feel a friend pinch my elbow, as I turn around and giggle,  pulling at the ends of her headscarf. The tea brims over, and a little bit burns my fingers. Yet, I don't wince.
From behind the mesh screen of my burqa, I see shadows of unneeded approval. My father embraces another man. I hear the ruffling of paper and unscrewing of pen-tops as a date is finalized. My weak heart throbs again. I stand helpless as my good heart guides me away.
People pity me for the two hearts inside my body, yet, somehow I feel privileged. My weak heart which throbs incessantly is the heart of my harsh reality. The good heart which occasionally releases these rippling waves of euphoria is the heart of my future. My good heart shows me what I am and takes me where I should be.
The tea cups clink, as sweets are exchanged. The kitchen door opens as my mother comes to tell me the news. My good heart deafens me against her excitement, as I look on, expressionlessly.
**
Where am I right now?
I'm sitting at this well-polished ivory table between my mother and my sister. My father is well dressed and smiling, sitting between two of his other wives. My mother was his first wife. I wonder if I'll be fortunate too.
Does my current location give me happiness?
Not happiness, but intrigue. This cloth over my fifteen year old face is making me sweat.
Where do I want to be?
I want to be a part of the exam-time hush. I want to bend over my geometry box and carefully construct angles.
I close my eyes, as my good heart guides me away again. I feel a cold pen between my fingers as I sign my name beautifully.
Somehow, I've unknowingly signed marriage papers.
I meet my husband's gaze in the  mirror that my mother holds before us. He's definitely thirty five years old if not more. There's this awkward look in his dark, brown eyes which seems to be mirrored in my sapphire blue pupils.
I feel the sweetness of mithai against my lips. My good heart takes me to our local bakery shop, which I would presumably visit after a pleasantly tiring day at school.
**
Where am I right now?
In my mother in law's kitchen, with my eyes on the ground. She tells me about my duties as a THIRD wife. She tells me where I will sleep, and asks me what I can cook. They're three scraps of rag under my pillow, and I'm supposed to dust our room with those only.
Where do I want to be?
I want to go up to my room, and empty out my suitcase. I want to examine those three scraps of rag. I want to take out my seamstress's box and  sew my thoughts onto those rags.
Does my current location give me happiness?
Not exactly happiness, but yeah, I'm feeling triumphant over my mother in law. She thinks she has bonded me to her traditions. Yet, unknowingly, she has freed me.
I nod respectfully, before going to my room to bathe. The room isn't that bad. I have a double bed, a carpet on the floor, two couches, two cupboards, one tea table, and a chest of drawers as well. I smile, and draw open the curtains. The beautiful hues of the Afghan mountains stamp the walls with their excellence.
I lift my pillow, and find three pieces of gorgeous rags. Planting  kisses on every one of them, I think I'm going to be able to pull through.
**
Where am I right now?
My husband is sleeping. I told him I'll come in as soon I'll unpack. It's 2 am, and I'm sewing my first verse onto the first rag.
Does my current location give me happiness?
Yes! It's almost as though I'm picking at the silky strands of my dreams and aligning them onto cloth.
Where do I want to be?
In the musty corners of our Pakistani Library. I want to be enveloped within that solitary poet's cocoon, with my verses. I brush a lock of hair from my teary eyes, and murmur my first and most beautiful verse.
"dish washing…
I shelve my dreams
with glass plates"
Wiping a tear of happiness, I place my first verse under my pillow.
**
I've had this most awful day today. I've been up since 4 am, washing laundry in the cold. The other two dominate me, and then complain about me to our mother in law. I've missed lunch, and merely looked on while they ate my share of korma.
My anger pulsates in the veins on my forehead, as I stumble upstairs.
Where am I right now?
Grappling under my pillow for the second rag.

Does my current location give me happiness?
It improves my agony, and quenches the thirst within me. I'm going to sew my second verse onto my second rag.
Where do I want to be?
I want to be the Cinderella I have heard of. I want to eat a lavish dinner, and fall asleep in the arms of a beautiful prince.
My good heart leads me away again. I feel the pleasure of being loved and wanted. But, somehow, my glass slipper falls off. With my naked heel pointed towards the sunset, I whisper my second verse into his listening  ear.
"equinox…
the talk
of girl education"
**
My soul has been shifting uneasily within me. I feel barefoot without the glass slipper I lost yesterday. These brief hallucinations sometimes seem real. I shake myself sternly.
My literacy surprises his two wives. They ask me to write their names. Remembering the frost of the laundry, I nearly refuse.
But, what if I was illiterate too?
I write their names into the damp earth, with the broken ends of a neem branch. Their innocent excitement on seeing "SHAHIDA" and "AISHA" inscribed into the soil tells me how literate minds mature faster. Leaving them to their excitement, I walk upstairs again. I feel sad. Today, I have to write the third and final verse.
Where am I right now?
Standing by my bedpost, pondering over my third verse. I usually don't write in the afternoon.
Does my current location give me happiness?
Triumph again. My three pieces of rag talk of female literacy in this traditional house.
Where do I want to be?
For once, I don't know.
I bend over my rag and sew my final verse. Tears gush down my cheeks, as I think of life without these square pieces of cloth which keep me going. I murmur my third verse softly
" a girl's dreams flicker…
go, wrap the afghan moon
in your purple headscarf"
Dropping my needle and thread, I unscrewed a light beam from my life.
With my three rags spread out before me, I sew them together and make a perfect winter scarf for my cold neck. I needed my verses to be near me all the time. They were a part of me. Fragments of my soul.
When the scarf was ready, I spread it out on our balcony's railing wanting it to be speckled with twilight.
A cold wind blew. I lay immobilized in horror, as inconsiderate nature guided my scarf away. I watched my verses linger mid air as they covered the bare shoulders of a beggar child. My fear disappeared. I smiled.
For once, my good heart and bad heart did not start contradicting each other. I felt as though I wanted to be right there, right then. For once, I began loving my present. I did not conjure up any frameworks for the future.
The beggar looked up at me. He held up his hands in gratitude. It was almost as though he was holding up the moon. I smiled and nodded.
I watched him struggle to comprehend the verses in the moonlight…  I knew what I had to do…
Within me, I felt my good heart's enthusiasm dying away. Was this because I presumably did not need the illusions and fictional futuristic frameworks it created for me? I felt my weak heart hang limply, and my good heart merely take its place.
For once, I did not mind.

Years later……
I finger a strange grey lock on my shoulder. It looks strange and is a definite misfit on my youthful shoulder. My daughter, Ina is a twenty-one  year old damsel, veiled by pleated silk cloths. Her suitor smiles before her.
I sit alone on the couch, with no husband beside me.
My good heart hadn't throbbed all these years. No longer did I feel those exhilarating waves of euphoria thrusting me into vague hallucinations.
Eventually , I had embraced my teenage dreams. I felt my pulse, as blood thudded normally beneath my fingers. I thought of all those girls in the hostel, where I was the headmistress  , clambering around me to sit on my lap and kiss my wrinkled fingers.
My daughter and her suitor came closer towards me. I smiled. My foot prints retraced the journey from a teenage bride, to a high-school headmistress.
There was a verse sewed onto my daughter's breast pocket.
"A whisper of monsoon…
The washer man's wife
Goes to school"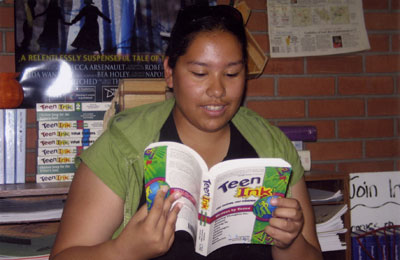 © Jasmine C., Glendale, AZ