Suicide is Not the Answer
November 1, 2017
Once upon a time there was a highschool student who lived the perfect life. She had everything anyone could have ever wanted, a big house, a nice car, a swimming pool, and a maid to clean her house. The one thing that no one knew was that this girl lived with depression. She didn't tell anyone, and she could not escape her wild thoughts. She usually thought about how she was too short, skinny, annoying, stupid, spoiled, and not good enough for anything. These thoughts kept going through her mind everyday, but she always covered it up by putting a smile on her face. She was a three sport athlete, and she was good at about everything that she did. She ran cross country and won state two years in a row. She was a beast at basketball even though she was limited in height. She also ran track and she won state three years in a row. People never would have thought that someone who had everything would ever go through something like this. At school she appeared to be fine. Some days she would not talk as much and walk around with her head down. If anyone would ask if she was okay then she would just say that she was fine, even though she was not . As the year went on she still felt  the same. Then one day,someone called her stupid and she lost it! After school was over she went home and asked people what they thought of her. Some responses were nice while others were very rude. She decided that she had  enough. She kept asking God what her purpose was on this earth. She kept praying and asking God why? The next day she did not say a word all day.
Her best friend then came up to her and said " I know that something is going on. Will you please tell me everything."
At first the girl sat in silence then she said I have to get to class.
The best friend grabbed her and said "You're coming to my house after school to tell me everything."
The rest of the school day passed and when they got to her house the girl just let it all out. She started off by saying that there is no point to be living on this earth anymore.
Her best friend stopped her right away and she said " I already see where this is going and I want you to know that so many people look up to you! You are just an amazing person inside and out. Do not let all those people get inside your head because they are just jealous of you and what you have! You are one of a kind so it is okay to be different. You are my best friend and I need to to be there for me and I will be there for you." This little talk that these girls had was the only thing that she needed to hear and it prevented her from taking her life. A few weeks later she graduated from high school and she went to college at the University of Dayton for basketball. She then went on to the WNBA and was put into the hall of fame at Dayton. Just imagine if she would have killed herself. She wouldn't have reached any of her goals and she wouldn't have inspired many so others. Sometimes all somebody ever needs is someone to talk to that will fill their head with happy thoughts. Be that kind person that will help prevent suicide.  "When you get into a tight place and everything goes against you, till it seems as though you could not hang on a minute longer, never give up then, for that is just the place and time that the tide will turn." – Harriet Beecher Stowe
You may not understand today or tomorrow, but eventually God will reveal why you went through what you did. If someone is having suicidal thought, then you need get out of your comfort zone and help them out because you never know when the time will come when the pull the trigger.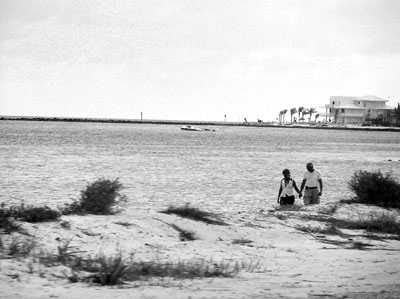 © Edgard B., Coral Springs, FL