Days of Monstrosity
October 18, 2017
Prologue
Hello.
My name is Minji Park.
I currently live in the country of South Korea.
And I am society's taboo.
No, I am not a murderer, nor am I a thief.
I am a creature of an immensely worse notoriety.
I am a single mother.
Story
A pale, unwelcomed ray of sunlight positions itself in a crevice between the nape of my neck and the cotton pillow on which my head rests. My eyelids are too heavy to lift; my arms are wrapped around the fragile body of my son.

The alarm clock in the corner of the room begins to beep. I kick it off the cardboard box that it stands on. Silence flows throughout the room, passing by the soft whirr of the rattling ceiling fan.

"Mommy?"

The whisper escapes from the plump lips of my boy. My hand strokes the crown of his head, sweeping his jet-black bangs out of his eyes. Morning bestows itself upon us; the darkness of the night slips away from the tips of our fingers.

+   +   +

The sky pours a shower of gelid rain onto the concrete sidewalk. Water trickles down the sloped path, creating a tranquil river of wetness and fallen leaves.

Today, I can hear the trailing whispers that tend to float around my mind from time to time, muddling my thoughts.

Ah, look. It's her. What an eyesore.  Jin Woo, don't hang around that monster's child. He's dirty.

My fingers are numb from the frigid air; I tighten their grasp on the chubby hand of my son. His dark eyes are clouded by an emotional pollutant far beyond his years. His pallid face resembles a downcast senescence more than it does a salubrious youth.

We near the school's steel gates, perched wide open as if they are welcoming students. I gently nudge him forward into the front yard of the vast campus, but he latches his fingers onto the hem of my shirt.

"Mommy..." he murmurs from underneath his wool scarf.

"Go, go, you need to go."

"I don't want to. I really, really don't."

"Hey, if you don't go now, both of us are going to be late again. Quickly, go."

"Please, mommy, please. I seriously hate it here," he pleads, clinging onto me.

"Ah, if I'm late to work, will you take responsibility? Will you?" I pause for a moment and answer my own inquiry, "No, you won't. You can't. Now, go."

"Mom! Daddy used to let me skip, though!"

The penetrating stares of various parents and teachers now rest on the back of my head. I lower my voice. "Don't talk about that man, Woo Bin. Just go, okay?"

I ruffle his hair lovingly and watch as he grudgingly drags his feet through the damp spring petals. Thick clouds loom in the skies above, and I turn my back to the school, dreading yet another day of bittersweet tears and brokenness.

+   +   +

Dim evening sunlight seeps through the tiny windows situated in the corner of my cubicle. My eyes burn from looking at the tiny text on my laptop screen and the scribbled mess of ink on papers scattered across my oak desk.

The plastic phone hidden behind a slightly burnt plastic plant begins to ring. In a rush to finish my work, I unconsciously ignore it and hope to pick up my son soon.

+   +   +
An hour later or so, I receive an e-mail from the secretary of Woo Bin's school. She tells me that he will be returning home alone. Albeit slightly worried, I continue to push through my work.

+   +   +
The metal bus doors squeak open. I step down the slippery stairs and leap onto the concrete sidewalk. A puddle splashes around the edges of my shoes. My feet lead me home, down the dark street lit only by flickering street lights. An unmoving shadow occupies a small crook in the front porch of my house. I wonder if a package has arrived.

Upon closer inspection, it dawns on me that that is no package. It is no object. It is my son, shivering from the chilly atmosphere,  huddled up.

My legs instantly sprint down the road and climb the steps. My knees wobble and try to stand but fall instead. My arms squeeze him tightly, so tightly that I think I will crush him and his frail body.
Tears drop from my eyes, from his eyes, from our eyes.

I ask him who it was this time, who would be willing to hurt this precious face.

He sobs, "All of them. Every single one of them. They all hate me!"
He digs his nails into the curve of my shoulder and continues to cry, "And... it's all... your... fault." He keeps on gasping for breaths of air and mumbling about his pain.

I hide my face in his wispy hair and tell him how sorry I am to him. How sorry I am that I couldn't keep his father around. How sorry I am that I can't give him the love he needs. How sorry I am that I'm never there to protect him from the emotional daggers repeatedly thrusted into his torn heart.

We hold onto each other for dear life because we only have each other. There is no one else for us, no one else who loves us.

+   +   +

I turn off the small lamp beside me and stare at the ceiling. I wonder why life makes it so ludicrous to only have one parent and so socially acceptable to ostracize those who do. I hate it so much.

I roll on my side, shifting the covers. The breaths of my son begin to steady after a period of grief. I close the distance between us and disregard the discomfort of the floor below our blanket. My arms embrace his tiny body. I swear to never let him go.

In silence I think. Another day lost to our helpless agony. Too many more days to come.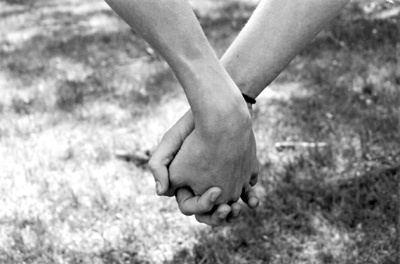 © Alexa T., Pompton Plains, NJ