Taxi Cab
October 18, 2017
No one ever knew how I truly felt, my whole life was one long state of loneliness, and oppression. No one ever took the time to understand me and my feelings, or cared how I was truly doing. I just wanted everyone to know that I am half a soul divided.

But then… there was you. You were the light in the dark world I lived in. You… you were the other half of my soul. You were by my side until my dying days. I told you, "If I'm not here with you, and I'm far away… don't be afraid my love, I'll be home soon, and so will you."

I would strip myself of breath for you Jenna. Just to see you happy, and to see your beautiful smile. So I kept telling you as my condition worsened, as you sat by my gloomy hospital bed, with the light filtering through the only window. "Don't be afraid. We're going home." your head dropped, and your shoulders hunched causing your lovely blond waves to tumble over your face, your blue eyes looked at me with a sense of peace… but also fear. I never shed a tear, out of knowing we would be home soon, together. You cried, and pleaded for me not to go, but when the day finally came for my soul to transcend, with one last breath I muttered, "Don't be afraid. We're going home," and I was gone, and you were alone. But my journey had just begun.

The hearse ran out of gas on a vacant side street at this point in the trip, the man wearing a suit in the passenger seat in a panic reached over, and grabbed a map. He explained the plan to the driver, and contrived a new route to save the past. As he got out of the hearse stepping into a puddle, he looked around at the dank side street. The half lit alleyway spooked him. he checked his watch, and waved it over as a taxicab drove by. The cab was beautiful, and plain. A yellow cab, with a black rim, stating 'TAXI CAB' in black lettering on each side. They cleared out the back, and the two other men started to unpack.

Driving once again now, there were three men. It was silent, then I heard one of them say "I know the night will turn to grey, I know the stars will start to fade, when all the darkness fades away, we had to steal him from his fate so he could see another day." I then cracked open the box I had been laying in, I assume someone picked the lock. A speck of light revealed the spot where my fingernails had fought to get out. Then I pushed it open more, as I pushed open the door, I sat up off the floor, and took a breath.

I inspected the cab. I looked and saw there were three men up in the front of the cab, but all I saw in the back were bags of heads… so I asked the men, "Am I alive and well, or am I dreaming dead?" One of the men slowly turned his head around and said, "We're driving towards the morning son, where all your blood is washed away, and all you did will be undone." As he turned back around I softly whispered to myself, "Don't be afraid."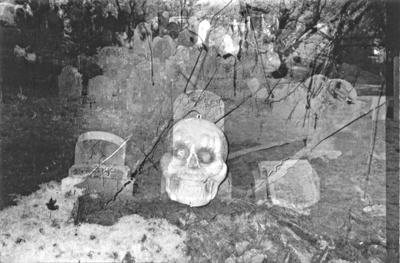 © Kyle M., Marblehead, MA