The Drive
October 1, 2017
I have everything, I live a perfect life. A beautiful wife, four good-looking kids, three large estates in California, a 90-foot yacht, and a strong relationship with God. Most would say that I am more than blessed others might say that I am greedy, but I don't care what they say. The one thing I love more than my wife is my fleet of cars. Twenty of the most beautiful cars you have ever seen, Bugatti, Ferrari, Lamborghini, Koenigsegg, Pagani, Mclaren, for the rush. Bentley, Porsche, Maserati for a laid back, but classy drive. To name a few but, I have one prized vehicle that I choose over any of these.
         
          I walk into the garage flipping on the lights on, illuminating beams of light off of the marble floors, freshly buffed. The tip tap of my Gucci loafers on the floor as I wander through this warehouse of cars like a kid in a candy shop. I set my sights on a wild beast, still untamed. A 1967 Shelby Mustang GT500, the perfect specimen of American muscle. My father and I built this car when I was 15, the first in my collection and also my most valuable. I grasp the cool, smooth, stainless steel handle as I pop the door open. Dropping down into the leather seat, as comfortable as ever. I sit there for ten minutes reminiscing all the memories that this car holds, it doesn't let me forget where I came from.
           There is nothing like it, the first time you get in the driver seat, the revving of the engine. 650 horses all to myself, just begging to be set free. I roar down the street, the smell of my burning Toyo tires and it all fades away. The way that the car pulls and hugs the curves, so smooth, so elegant. The speed limit is of no importance to me when I drive this car, 90 in a 45. I drive up a back road that not many people know about, you can see it all from here, the little flickering lights on the US bank skyscraper and all the Surrounding buildings. This is my me time after the family is all asleep and the day is done. The fifteen-year-old me can only dream of these things.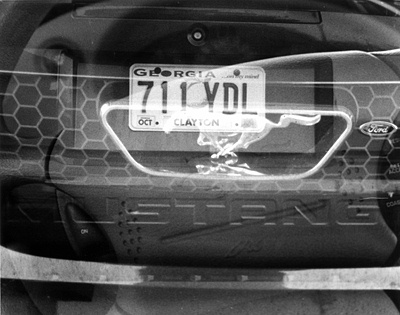 © Bobby P., Castro Valley, CA