The Next May
September 24, 2017
The walls would crack and the doors would creak when she hit me. As the bruises formed, the poltergeist of despair and repetition reeked havoc upon the tiny kitchen and the quaint dining room; the setting of each hurly-burly and the ending of each inevitable defeat. To be fair, I think we were both defeated. With each brawl and each sound effect, we were both scarred; just in different places. For each time she punished me, I escaped the reality of what was happening with my imagination I all too often visited. I pictured us as a comic, an entertaining exchange between the hero and villain of this month's issue. Though with each strike I realized each volume was released bi-weekly rather than once a month. As the popping letters blistered my ears, "BAM..POW...ZAM", I concurred that the hero deals the blows while the villain suffers the receiving. In the end, she was always the hero while I the villain.

She'd tell me that I chose such a role, but assumed that she herself was thrust upon with the greatness of a protagonist title. As the scene would end, and the pictures blurred from my foggy vision, I'd gaze upon her everlasting glory casting down on me like a lion standing over its prey. They say that snakes can hypnotize their targets with a single glare, and I always knew that she was the top of the food chain whenever we'd appear in public. Her sweetened words and lavish charisma reminded me why I fell in love with her in the first place. As she'd dazzle the crowd and glitter our company, I'd gaze off to the side; wondering what it'd be like to fly. As my thoughts lifted me from my chair, I would only hear the sound of helium filling me up so I could float. The echoes of conversation would fade away as I flew away.

The sky was always captivating and the sights were always too good to be true. The closest I had ever been to stars were the ones that had exploded into my vision a mere three hours ago before the party; she had had a tough day at work and needed "relief", only to be met with my long standing proclamation of "I'm not in the mood". But as I reached for these stars, their touch cool as the ice pack I covered my arm in yesterday, they whispered sweet nothings into my boxed ears. "I love you". "Your hair is so soft". "Your eyes are comforting". "Your fingertips are so warm". "No stars in heaven can compare to you". "I love you, my dear". I always wished the dream could calmly fade away, giving me time to take in the serenity that was my own mind, but I was always shaken by the griping grasp of her soft hands on my burdened shoulder. Her snake-like glare freezing me in its fix, seething and warning, "Pay attention".

Every party ends and every fight starts back up again. I can't quite remember what the topic of anger was that time, but I can only imagine it was something so dear to her that it trumped the importance of my having a stable wrist. 3 AM in emergency care, her by your side, you stare up at the white tiles on the ceiling that needed to be refurbished. You wonder why you can't muster that same helium-feeling again. You can only focus on the gentleness of your love's touch, stroking your leg with a worried facade that you swear you saw once in a movie. You ask yourself what date it is, only to remind yourself that it didn't matter.

You always said that that was the last straw; that you were out of carrots and sticks and were going to leave the next morning. You may seek the women's shelter you bookmarked three weeks ago or you may drive till you find the farthest motel. But all the "this time"'s and the "may"'s still last until the end of May, then the May after that. The eggshell ceiling tiles remind you that you may dream and you may imagine, but by the next May you will still be there. With her. You will still be there as the walls crack and the doors creak as she hits you.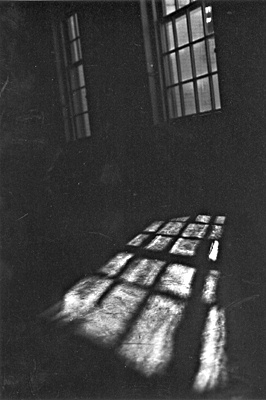 © Mary A., Fullerton, CA