Saved By The Alarm
June 14, 2017
My name is Mike Anderson and I am a bond trader for Cantor Fitzgerald, a New York based investment bank.  I started with the firm in 1991 and until September 11th, 2001, I worked on the 105th floor of building 1 at the World Trade Center in lower Manhattan, New York City.

My work day started with the buzz of my alarm clock at 5:00 AM.  After that, my normal routine was to do 50 push ups, 50 sit ups, 10 burpees and then go into the shower. I'd get
dressed, gobble down a quick bite to eat, wash it down with a cup of hot coffee, then jump in the car to start my commute from Basking Ridge, New Jersey to Lower Manhattan. That was my daily routine for about 10 years until one bright, beautiful, sunny, late summer morning in September of 2001.
For some unknown reason, that morning my alarm clock did not go off.  In 10 years of working at Cantor Fitzgerald I was never late, and my trusty alarm clock never failed me.  What a way to start the day! What do I do now?
In a panic I skipped my morning routine.I threw on a suit, jumped in my car and raced down the highway to the PATH train in Jersey City. I parked my car and sprinted to what I thought was the 8:52 AM  PATH train to find that all train service to New York City had been suspended. I thought out loud "What do I do now? Maybe I try to get the ferry…?"
Since the train was not moving I walked with the crowd out of the PATH station to find another option. As I wandered on the street that bordered the Hudson River, I looked out at the New York Skyline to find smoke coming from Tower 1 of the World Trade Center. I just gazed at the building, stunned and bewildered at how that fire started. It looked so surreal that I think I was in shock. I realized, "THAT'S MY BUILDING!"  Then I thought, that's close to our floor…..!! I hope everyone up there is okay.
The crowd began to build and theories on how the fire started varied. One person said it was a bomb, another said it was a traffic helicopter, and someone else said they saw a plane fly right into it.  
Then it happened…..BOOOOOOOMMM!!!  The loudest and most terrifying explosion I ever heard! The screeching of metal against metal flooded my ears. The blood curdling screams from everywhere swarmed my ears. A large jet plane flew directly into Tower 2.  The crowd stood in total shock and horror.  Now I knew that this was not just a fire and didn't seem like an accident. 
I worried about my friends and co workers trapped on those floors near where the first plane hit.  I tried to call them but there was no cell phone service.  I looked at people in the crowd, seeing their reactions, fear in their eyes.  That feeling combined with my own emotions was a feeling that I won't forget. 
As I stood on that street in Jersey City I watched both Towers collapse. The massive tsunami of smoke filled the streets and air in New York. In the process I lost a lot of friends and co workers.  Cantor Fitzgerald lost 658 employees that day, over two thirds of our firm, many were close friends. 
A part of me passed that day as well, but I will always be grateful for my alarm that failed to go off.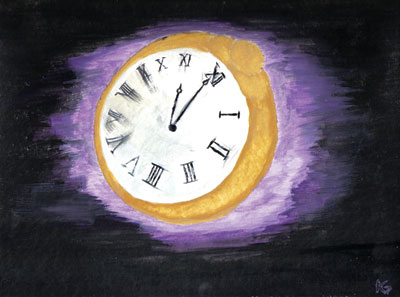 © Kyle G., Clarksville, TN