Living a Life To Remember
June 12, 2017
It seemed like Jon had the perfect life. He had a loving family, a well paying job, and a nice house, but to Jon, something was missing. Not a belonging or any tangible object. It was a feeling that there was something more out there. He often found himself wondering, "How could I possibly want more? My life is good, I should be happy," but happy wasn't a word Jon would use to describe himself. Although he was "doing well" according to his friends and family, he didn't really feel like he was "living" life. He felt as if he was just coasting along, sitting at the same desk everyday, going through the motions of running the family business - meetings, phone calls, emails and presentations. His days began to blend together, nothing differentiating one day from the next. Jon realized that he wasn't living, he was simply existing and he wanted more than that. He wanted to live a life worth remembering, not one he would rather forget. That was his life changing moment, the day he left it all behind and decided to start living. He handed the business over to his younger brother and bought a plane ticket to Hawaii. There was no itinerary, no reservations, no plans. He was just going to live in the moment and see where adventure took him.
The plane ride wasn't Jon's first, he had traveled plenty for work, but somehow, that window seat provided him a different view. As he watched the plane take off, he felt his spirits lifting and found himself getting excited for the first time in a long time. When Jon took his first step off the plane, he didn't realize that he would spend the next 6 months of his life there. In addition to learning to surf and getting a part-time job as a hiking guide, Jon found a love of photography and was soon spending all of his free time capturing the beauty of the islands.
Looking back at that first trip, Jon realized that was when his life really began and when he truly started living. After that initial adventure, Jon just kept going. He went skydiving and parasailing in Mexico. He went on a backpack trek through the rainforests of Asia. He booked a month long African safari and eventually found himself settling down in Colorado, where he opened up his own photography studio that highlighted the photos he had taken during his many adventures.
As he was closing the shop for the day, he paused and looked back at all of the memories he had created over the last 10 years and thought to himself, "Wow, I have lived an amazing life and can hardly imagine what else my future holds." It was at that moment he realized something that no desk job could have ever taught him, life is only lived by experiences. If he hadn't been willing to step outside the comfort of all he had known and walk away, he would never be where he was today. He may not have had the sports car and the big house anymore, but he had something more valuable. Jon was finally happy.
Jon continued his travels and constantly sought new adventures. He truly lived his life and never regretted one second of it.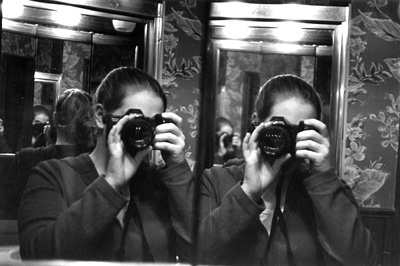 © Natalie D., Marblehead, MA