Giselle's First World Problems
June 6, 2017
Giselle was picky and loathed the idea of mismatched outfits. She owned three pairs of Jimmy Choo heels, all towering up to at least 3 inches high. The dress Giselle wrapped herself in was a Valentino low cut, floor-length, silver dress that was embedded with swarovski crystals on the bodice and on the neckline, plunging down all the way to her chest.
As usual, Giselle was unsure as to which shoe was the perfect fit to wear to her friend's birthday party that night. She summoned her maids Dorota, Camiel, and Gina and placed the burden on them of choosing the right pair of shoes. At the sound of her voice, all three of Giselle's maids came running in as if they had just heard news of a murder. Giselle's problem however, was far worse than a murder. Unfortunately, each maid chose a shoe that pertained to their own standard of beauty which resulted in each pair gathering up to one vote. This left Giselle in doubt of ever making it to her friend's party in time. It was not unusual for Giselle to lose her sense of time, but today, she wanted to make sure to arrive there just a hair before 20 minutes late. Coming to parties fashionably late is a must for Giselle. She prefers it when all eyes are on her whenever she entered a room. But right now, it seemed as if Giselle might not even make it to her friend's party which started ten minutes ago. Her award-winning makeup hasn't even been done yet, and that usually took around an hour or two to perfect.
Giselle cried on her bed which was covered with gold-infused bedsheets, reflecting the multiple diamond encrusted chandeliers that suspended from her ceiling.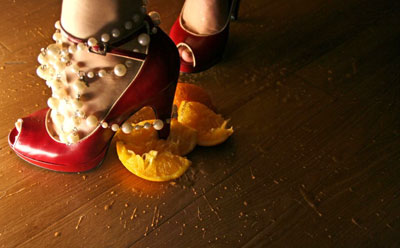 © Amber L., Carpinteria, CA