I'm Going Places
May 10, 2017
Good Morning America! That's the show that I am going to be appearing on bright and early this morning. I'm so excited that the moment my alarm clock begins to buzz, I get out of my bed right away and tread across my apartment to make myself a quick and easy breakfast. Jennifer and Damon, my stylists, are coming over in a few minutes to help me prepare for my appearance on TV today. The past few days have been crazy! Yesterday, my new album, Places, was released and it has been one of the best experiences of my life, but also one of the most hectic. The amount of interviews and public appearances that have been booked is overwhelming, but I am overwhelmingly grateful. As I eat my breakfast at my kitchen table, I hear a knock on my door. At 4 A.M. in the morning, it could only be Jennifer and Damon! Time to start my day.
As Jennifer straightens then braids my hair, Damon applies my makeup and runs through outfit choices with me. We finally decide on a black dress with some colorful flower print, and some strappy high heels. Once my look is complete, we rush to get out of my apartment. Lipsticks and makeup items are being thrown, food is being stuffed into bags, and last minute essentials are being collected. Soon enough, we are out the door! We walk out of my apartment building, and luckily there is already a cab waiting to take us to the studio. As we ride, we discuss our plans for the day. After Good Morning America, we are to go to the studio to do some final business on sales of my album, then perform at the Kelly and Michael Show. Once I am done there, we go home and put together some last minute details for my album signing tonight at a nearby Barnes and Noble. Like I said before, hectic.
Before I know it, we arrive at the studio. Jennifer, Damon and I rush out of the cab and inside the bustling lobby. We walk to where the show is being filmed, and I introduce myself to the hosts. We talk over how the show is going to go, and we run through my performance once so I can get a feel of the stage and equipment. Once that is done, the show begins. The regular news and weather are being discussed as I sit and wait for myself to be introduced. As soon as I step out in front of the cameras, everything goes by as quickly as a blink of an eye. Thankfully, everything went great and ran smoothly. As soon as everyone says their final goodbyes and thank yous, we are out the door and on our way to the record label.
Luckily, being at the record label did not take long. I discovered some great news, which made my day so much better. My album hit #1 on iTunes! I am ecstatic and cannot contain my excitement. I suggest we walk to The Kelly and Michael Show, so I can let out some energy. It doesn't take long for us to arrive yet again at another studio, but as soon as we do, Jennifer and Damon whisk me away into hair and makeup. God forbid I should look the same at two events in a row! The Kelly and Michael Show was ran almost exactly the same as Good Morning America. I got to be interviewed, then performed another number from my album. It was so much fun, getting to talk about how hard I worked on something so close to my heart, then getting to perform my favorite songs for thousands of people. It truly is a dream come true. I wish that I could stay and talk about Places forever, but we have to stay on schedule! We quickly say goodbye and run out the door, back to my cozy apartment.
As we step into my apartment, we are all exhausted. Damon goes to make coffee, while Jennifer and I turn on the TV. We watch my performances and interviews, and I must say, I am pretty proud of the way they turned out. Everything this morning went so well, I feel like this is one of the best days ever. As we sit and drink our coffee, we discuss my look for tonight. We decide on an all black outfit. I feel as if black is just becoming my thing. Once we are done with our coffee, Damon wipes all my makeup off and reapplies a new look. Jennifer whips my hair into a high ponytail, and I slide into a lacy black dress with matching black heels. We pack our bags for the night, and soon I am in yet another cab on my way to Barnes and Noble. We get there about a half hour before the doors open. We take some pictures and then I sit down and get stocked with tons of black sharpies and copies of my album. As soon as it is 6:30, the doors fly open. The next two hours are filled with pictures, laughs, and tons of hand cramps. I can only imagine what authors have to go through every day. Before I know it, I've signed my last album for the night. Jennifer and Damon offer to take me to dinner, but I decline. After this long of a day, all I want to do is lay down and go to sleep.
I take a cab back to my apartment alone. I am thankful to have some peace and quiet. I have been around so many people today that my ears ring. But I have no complaints. As I sit back and drink my tea in bed, I think of how lucky I am to have what I have. All of my hard work and dedication have led me to this moment. I've missed out on many normal life experiences, but it has all been worth it. I would not trade any of it in for the world.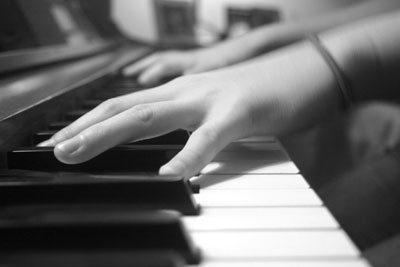 © Elizabeth S., Newton, MA