The Pea Picker
February 11, 2017
Dorathea Lange looked down at the bucket in her hand and sighed. Another miserable day picking peas in the scorching California sun. Even though it was the middle of February it was more humid here than it had ever been in Scotland. Heat radiated from everything. By the end of the day she would be a sweaty, perspiring mess. A groan escaped her lips as the work truck she was riding in bounced over the rutty road. She hadn't slept well last night. The beds at the migrant houses felt less like mattresses and more like stones. The screech of the truck's brakes broke Dorathea's concentration. A sense of hopelessness overtook her as she gazed upon the endless field of peas withering under the early morning sun. Desperation choked her as she stepped onto the parched, dusty ground. It crawled way up her throat until it was released in a broken sob that was quickly silenced by a few startled looks from her fellow pickers. She straightened her spine, wiped her eyes and headed for the first row of peas. She could do this, she was strong.

She wasn't supposed to be here. Not in this pea field or drowning in the fear and depression that had overcome the initial feelings of hope, joy and pride she had felt when she first stepped foot in America. A year ago she was in Scotland, living in an small, but cozy, neat stone house with a large farm that was just starting to pay for itself. But then her beloved husband fell sick with an unknown illness and passed within a week. Her parents could not support her and her seven children nor could she keep up with all the work on the farm herself. She had no choice but to pack up her things, bundle up her children, which included her then two month old daughter Molly, and sail to America.

To be honest, there were worse places to be. She still knew that there were brighter futures here than anywhere else in the world for her children. She straightened up for a minute, turned her face to the bright azure sky and closed her tired eyes. She conjured up images of what her children's lives would be like. She saw their radiant faces staring back at her, heard their sweet, tinkling voices calling out "Mommy we love you!". That's what made it worth it. A hard ball of resolve began to grow in her stomach. If she couldn't do it for herself she would do it for them. They were smarter than she was, and just as hard working. They would go far in this country, she knew it.

" Dorathea! Dorathea Lange!"

Her head snapped back and her eyes scoured the field until they locked onto the driver who was hanging out of the door of the truck.

"We don't pay you to stand there, we pay you to pick! Get back to work!" he shouted.

She once again bent low and continued her toil, but this time with a renewed spirit. She even found herself humming a song she hadn't sung in years, and yet she knew every word. She believed it was called, "Amazing Grace".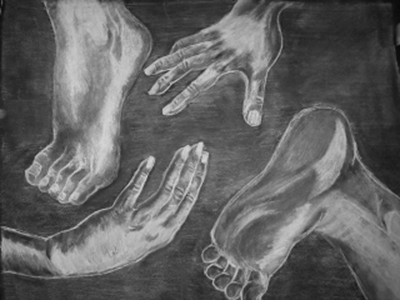 © Rachel U., Danbury, CT