The One
February 13, 2017
"Who is she?" I spoke as I patrolled the brick-paved roads of Stalin City. I saw the young children lining up with their leather book bags ready to leave school, but beside one of the lines, I saw the most beautiful young women ever. Her black ink hair in perfect curls and her snow-white skin. She was stunning, staring at her took my breath away.

"Wait, which one? They are all pretty smoking." Ilir, my soldier pal spoke. I nudged him and sighed in annoyance. Eventually, I started to slow down to get a better look at her. Her smile melted my heart and her dress outlining her curves gave me goosebumps.

"C'mon, we have to go to our four o'clock training." Ilir pointed out as he started marching forward. I straightened my officer's uniform and started off for the army base.

For the next few weeks, I took the same route to get to the army base, just to catch a glimpse of her pure smile that would light up my life. It wasn't until one night, sleeping in my cold bed that I realized I had fallen in love, and the coldness suddenly turned into a warm sensation.
***

"Come on Bardhyl, we don't have all day. Just go and drop the gift by the office and they will give it to her." Ilir was urging me. I had one single rose. It was a scarlet red, beautiful, but nothing in comparison to her beauty. I wrote a letter requesting for us to meet at the cafe near the park, in hopes that I would finally be brave enough to tell her how I feel.

I marched in as the administrators bowed their heads. I saluted back and spoke to one of the cleaning ladies standing nearby, "Hello, ma'am, would you mind dropping this rose off to a beautiful woman who teaches at the second floor?" the cleaning lady politely smiled and spoke,

"Natasha? Is she the woman you are referring too?"
I slightly blushed as I cleared my throat, "Yes."
The cleaning lady nodded and as she took the rose, I marched outside.

***

7:30. She still hadn't shown up. I was wearing my best suit and pacing in front of the cafe I started thinking to myself,

"What if she doesn't come? Perhaps I was too forward?"

I then stopped pacing and stood still. I felt an agonizing pain spreading around my chest. The streets all seemed to dim. I was heart-broken. I felt frustrated at myself for considering that this would work, maybe she thought it was a joke and didn't bother to show up. I slid my hands in my pockets, looking over at the couples at the cafe. They smiled, they talked, they knew what real love was. They were in love and I envied them for that. I eventually found myself with no choice but to start walking back home, by myself.

I was starting to walk when a melodic voice spoke to me, "Are you Bardhyl?" I turned around. A curvaceous woman in a flower print dress, with her black ink hair sweeping to her shoulder, was standing in front of me.
"Ye-yes ma'am. You are correct." I stuttered.

She giggled and spoke, "I'm Natasha, a pleasure to finally meet you."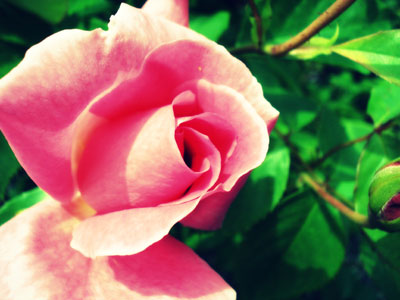 © Grace F., West Chester, PA