Great-Grandma
November 13, 2016
I decided to go for a walk to clear my head. The next thing I knew, I smelled grandma's cookies waft through the thick October air. The scent brought the red maple leaves to the ground softly along the silk grass; it brought chipmunks and squirrels to twitch their noses excitedly towards the cerulean sky that bled orange and yellow. I paused. A chill ran down my spine, my blood running cold as I succumbed to the realization that grandma had been dead for a couple of years now. It could just be another older woman baking delicious cookies, so I walked on down the street once again.

Maybe I should go back home; maybe I should investigate because the scent was too close to being her cookies. I paused again.

"Grandma?" I call out softly, "Grandma, are you still here?"

The wind picks up, the maples dancing as their leaves chased each other down the street. I've always been afraid of ghosts and spirits, but my gumption had taken over me, sending me to aimlessly stagger down the street with the leaves.

"Ceana, I baked this batch just for you," a sing-song voice fills the opposing cold air, "for they are your favorite, sweetheart."
I follow the voice towards a mirage of resplendence. An older woman, short and stout, stood in front of me with cracked lips and wrinkles showing the ages she had lived. Snowy curls covered her head like a fur hat on an eskimo, and in her rough looking hands was a plate of warm chocolate chip cookies, straight from the spiritual oven she probably owns. Sapphire eyes shine through thick glasses as she smiles softly. She was aesthetic; she radiated happiness and joy. The feeling didn't strike me.

I frown, "Grandma, you need to move on." Tears cloud my vision as I try to continue, "We all need to move on."

She drops the plate, cookies and crumbs breaking, but I was for sure certain that it wasn't the only thing that had broken. Everything had a tinge of chill and a hint of bitterness, even the sweet, sweet cookies that had fallen. Warmth now ran cold, and the sun was just a light trying to heat up the victims of the broken and lost.

"I love you so much, dear, how can I possibly move on?"

A sigh escapes my quivering lips as I look towards her shyly, "We love you grandma. We want you in our lives, but life happens and we have to accept it." I smile a bit, "We miss your cookies, and I know you miss us, but we will never forget you." I take a few steps towards her before being met in an embrace.

"Okay, sweetheart." A cold wind brushed my hair off my shoulders as Grandma had disappeared.

I was left alone on that street, left with a cookie in hands clasped together to hold it. I had never known why your great-grandma had given me that cookie, or why she had come to see me of all people, but one thing was certain: family is always in your heart.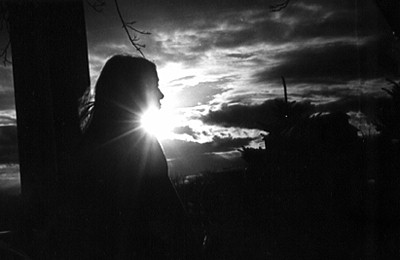 © Elizabeth G., Marblehead, MA