She has no time for me
November 14, 2016
She's locked up and mute until next May.

She's buried in books, notes, assignments. I look for her to talk but she can't for she has work to do. I understand. She is stressed, when she comes home she is a imprisoned behind her door and a prisoner of college. I see the light fading in her eyes from day to day. She works in the morning and goes to school at night. I hardly see her. When I do, she takes her frustrations out on me. I miss her, I've taken time together for granted, for now she is busy every hour of every day.

I scan the bleachers at my games to only see an open seat next to my parents. She's late I think to myself, she's coming. The last point is won by my team. I jump up and down celebrating and flash a smile in the direction of my sister's unoccupied seat. My smile fades and I know she isn't late anymore; she's at home studying.

People tell me I'm lucky. I'm lucky that my sister stayed home from college so that I could see her. I don't feel lucky. I feel bitter. Knowing she's home and can't spend time with me is a tease. She's only ten steps and a knock away. I knock and am allowed access. I can clearly see she is drowning in work, but it's Tuesday, our night. She tells me she can't watch our show for she has homework. Thats the third week in a row.

In light of the situation, my mom and I grow closer, but it's not the same. She misinterprets my humor that my sister so lightheardedly gets. It's not the same without the support of my sister, my best friend. I haven't met anyone that gets me like she does and I'm positive that I never will.

I have to hold out until May for she will be released of her cuffs from homework and unlock the cell of her room. She is locked out from the world and I'm locked from her. The lock will be broken in May; she will be free, I will be free.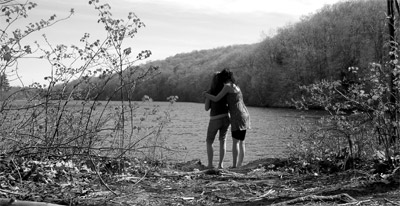 © Paige B., Woonsocket, RI