Ah... SJK?
November 4, 2016
   "We are going to play a game," said Ben.
   "What game?" I asked him.
   He replied, "I don't know what the game is called, but it's like testing our courage. We are going to go to the cemetery down the street and take a picture with the headstone that is written 'SJK.'"
   I did not want to do this, but I knew that if I said I did not want to do this game, my friends would call me a coward, so I just said yes. We went out of Ben's house and moved to the school in front of the cemetery. While people were arguing who would go in to the cemetery first, I nervously looked up the sky to calm myself down. Even though I was nervous, I liked how the sky was covered with bright stars. While I stared at the sky, Ben tapped my shoulder.
   "You scared?" he asked.
   "Nah, I'm good," I replied.
   It was definitely a lie.
   "We are going in the cemetery first. We will hide somewhere and scare people when they come," he said.
   "K," I answered him back.
   I was little happy because at least I did not need to move around to find the headstone. Ben and I walked across the road and went into the gate of the cemetery. After few minutes, Ben told me to hide behind a tree, and he went to some other tree to hide. I leaned on the tree and looked around. Few cats were sneakily moving around and looking at me with their green eyes, as if ghosts were staring at me, and crowds were crying and flapping their wings while they stared at me as well. A gust of wind blew on me, making a chill run on my back and giving me goose bumps. It also was very dark; I could not see anything but the sky. I thought that it would not be weird even if a ghost suddenly popped out in front of my face. Holding that thought, I waited in the dusky, chilly place for a while.
   Several minutes passed, and I began to hear gentle footsteps. I glimpsed to see who he or she was. At first, I only saw a bright flashlight from his or her phone. As she slowly walked towards the tree I was hiding, I realized that she was my friend who would come after Ben and I left. She was holding her phone with both of her hands and constantly looking around her while she bent her back slightly, as if she was preparing to be attacked. She slowly walked to the tree I hid without noticing me.
   When she just passed the tree, I approached behind her slowly with stealthy steps, putting both of my hands on her shoulders, and said, "Hey."
   She screamed, knocked my face with the back of her head, and dropped her phone. Even though my nose was sore, I laughed so hard. A few seconds after she screamed, she turned around and looked at me.
   "I seriously hate you," she said and started to walk to the headstone after picking her phone up.
   "Sorry Kat," I said while I was still laughing.
She never answered me back, yet she gave me a look. I stood on the road, watching the light from her phone dimming as she walked on the road. When I was no longer able to hear her footstep, I hid behind the tree, waiting for the next passer.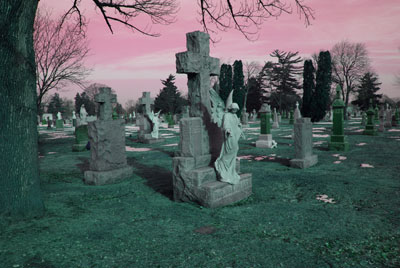 © Lauren M., Avondale, AZ