I Think I'm Feeling Better
September 25, 2016
June 26, 2016
Dear Mom and Dad,

Thank you so much for sending me here. I've never felt more pure and more Christian in my life.

The nice Christian man at camp helped me to repress my homosex- I mean, wrong feelings that I had and encouraged me to hate those feelings. We usually do some intense prayer and self hating for awhile, and then we go to lunch.

After, we watch some erotic videos while they shock me in my private areas and hands. It hurts really bad. I never want to feel that way again, so I guess I'll never think about those things again. Those videos made me scared. But it wasn't the nice Christian man's fault, he's trying to help me.

I know what I'm feeling is wrong and I'm trying really hard to change, honest. I mean why would I even want to be ..the G word. They're obviously so different from us. Sure they love each other, but God had the first two people be a boy and a girl, and when has the church ever done anything wrong regarding sex? And to have them have children? Forget about it. I know what I have is a disease, but I want to be cured. I want to be normal. I know I can pray the bad away if I really try.

The people here are very nice, they even let me bring my favorite book, 1984 by George Orwell. I love it, but I feel so bad for the main character. How can he survive after all the torture? And how can he live knowing that he is changed due to the torture? They're just trying to change this man because he's different and they're afraid of him. Poor thing. Anyway, the nice Christian man said that I'm improving and doing much better than some of my peers. He said between me and him, one guy was doing so bad he might have to have a lobotomy. I'm not quite sure what that means but I'm sure it would help that guy be healthy.

I hope all is well with you both. I miss you. Hope to see you soon when I'm fully normal and healthy,
Marty R.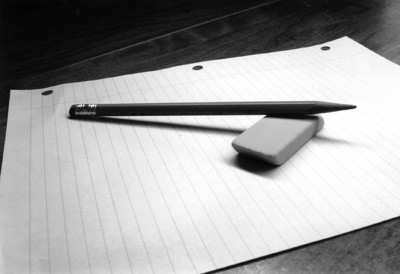 © Michael H., Mildford, CT