A Generation of Miracles
January 26, 2016
(Elizabeth Senior, 39 years old)
She had wanted, waited, and lived for this child more than ten years now, yet she didn't know childbirth could be this painful. Each minute, a rippling pain would course its way on her back that made her want to shout -- a scream -- it out. It wasn't normal, and neither was being almost forty and having a child. Mike stood by her side, helpless and kept on saying I'm sorry over and over again, yet she wanted to tell him she had nothing to hate him. It wasn't his fault that this was happening -- another scream -- and it can't be helped. Before, she let him promise that he would save the baby no matter what, as a promise, and he did. She hopes he would.
"Hwaaahh!" A series of cheers and yays were heard. Beth looked down and saw the baby. Yet, she suffocated. It turned really hard to breathe. The corner began to dim, and the infant's cries remained fainter...
(Elizabeth Jr. 4 years old)
The atmosphere in the cemetery carried an air of solemnity and grief. The wind stretched on for more than a thousand square meters, yet no laughs were heard. It was too forlorn, just too forlorn, even when it's supposed to be Lizzy's fourth birthday.
"Dad, when are we going home?" The little girl asked as she stared at a stone with carved letters, letters of the name of a mother she'd never met.
"In a little while sweetheart. Let me talk to your mom first," Her dad let go of her hand and walked towards the stone, throwing a bunch of fresh roses, caressing the mural as if it was his wife, and yet it was, in a sense. Lizzy knew better than to ask more.
The girl looked around the cemetery, wondering if it was once lively as her teacher said it was. What if a party was held here? Surely the dead won't be lonely anymore, would it? The dreadful morning dragged on with a series of unsaid thoughts in her head, and a memory of her mother's last words.
(Elizabeth Junior, 17 years old turning 18)
"I'm tired of this! It has been 18 years since she passed, Dad, why can't he even move on? Does he think it was really this wonderful celebrating half of my birthday paying tribute to a mother I haven't even seen or heard from?" Elizabeth said to the phone, with her best friend on the other line.
"Well, you wouldn't be here if it weren't for your mother," Eliza rolled her eyes at this.
"It's just like a punishment, as if I'm the reason of her disappearance. I bet you Crys, I'm going to spend my debut in the cemetery."
"It would be a one of a kind debut."
"Yeah? I'm serious though. Everything he talks, he'd be like "Your mother wouldn't like this," or "No, your mother would want you to be..." blah blah blah."
"Talk to him Eliza, I think it's not normal for your father to be stuck up on a woman for so long. Why not talk to him, see what he's feeling?"
Sighing, "I don't know Crystal. Last time we had a heart-to-heart talk, he ended up saying that I look like my mother, and seeing me everyday hurts him."
"It must be hard for him Elly, being reminded of your late wife almost every day is like bringing back your past. Good thing you went to college. I have to go now, my mother's calling me. Bye Eliza."
"Bye Crissy. Tell your parents I said hi."
Elizabeth hung up on the phone, and looked at the grandfather clock near her bedroom library. I must actually be a replica of my mother, she thought nostalgically. She heard her father say once that her mother was everything a husband could ask for. But maybe not everything a daughter could ask for.
(Elizabeth Jr. 36 years old)
November 26, 2016.
They both died at the same date as my birthday, Mom 36 years ago and Dad just 5. He left in an old bed, ever faithful to his wife, and just sat there in his king-sized bed, alone and cold, devoid of life. I have been married at that time, and like my parents, was having difficulty with having children. It must be the genes, my husband would joke. After 36 years, I'm standing in this foreboding place of doom, where I buried both of my parents side by side. I think of those thirty years that I hated him of bringing me to cemetery every morning of my birthday, and I feel a pang of guilt, regret, and foolishness, such blind was I to have not seen that he loved my mother, though I haven't touched her or seen her materialize in my eyes, that he hadn't found another.
"Eliza, are you okay?" MJ hugged me. He must have been feeling what I have felt before, anxiety, every time we're in a cemetery.
"Yeah, sure. Just nothing. Come on, let's go. We have a nursery to perpare."
(Alaizabel 18 years old)
Mom passed away when I was 15. It was already three years ago, yet the scar is as deep as it was before. I longed for her touch, her soothing presence that calms me as I start my panic attacks and depression swings. When people looked at me like some sort of a monster, Mom was just right there, her words enough to lighten me. I am not ashamed to admit that I was born deformed, my knees down were missing, and I continue to be pushed around a wheelchair, and in addition to that, I was deaf. Deaf, yet I could hear her lullaby ringing on my ears every time I visited here. Her presence alone could fill the entire world if I let it.
She told me a story, about a girl who celebrated her birthdays in a cemetery, a girl whose mother died when she was born, a girl who hated her father until she knew what love is. And in the end, it was already too late to apologize. I told her the girl was so bad and she deserved to die, and she nodded. I didn't know that she was the girl. And I wished I could take it back. But I couldn't. Like the girl on my mom's story, I was just too late to apologize, and that guilt will forever eat me away.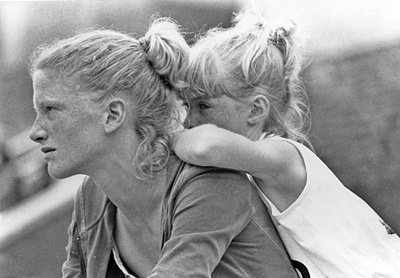 © Felicia F, Marlow, OK