Two Miles to Town
November 4, 2015
He walks sporadically, stopping every now and then to catch his breath. He glances behind him. He checks his watch.
"Four hours, I can still make it." He mutters.
He smoothes messy hair, straightens a grease-stained tie with un-callused hands, feet in sweaty shoes. He begins to breathe heavily, and stops, leaning against a grey fence, his shadow long in the evening light. He checks his phone, but there's still no connection, and now the battery is running low. He begins to walk again. He reaches a house, but there's no car there, when he knocks on the door, nobody answers.
He runs grease-stained hands through now grease-stained hair, adjusts dusty tie, feet in uncomfortable shoes. Eventually, he sees a sign. Two miles. He looks at his watch. Three and a half hours. He shades his eyes and looks behind him. His broken car is out of sight. He turns walks on, resigned.
He gives up on once-neat hair, loosens shabby tie with slender hands, looks glumly at the feet in muddy, ruined shoes. He stops to catch his breath, then keeps walking.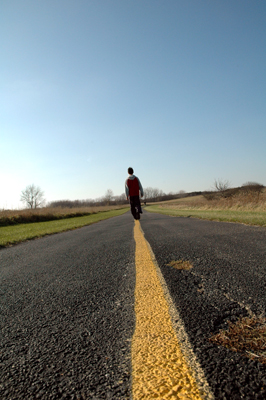 © Seita O., Palatine, IL