Perspective
September 27, 2015
Walking past the old school on my way to work, I beheld severe black bars, curving and dripping white dew against the humble brick wall of the building.  I sighed, shaking my head in disgust—had youths no respect for public property, that they would draw graffiti over the walls of a school?  The world was a rude place, and hermits were wise to live apart from it.

"You speak like a crusty old man," I muttered to myself as I frowned and faced the spoiled wall.  "Perhaps it was not intended as disrespect.  Perhaps it was meant to be art."

So saying, I attempted to view the wall with a less criticizing attitude.  The colors may not have been in the best taste, being intense hues orange and red, blue, black, and white, and the lines were not all shapes of grace, but men cannot all have the appreciation of grace in art that an artist in the family will give.  Even with its abrupt, angular lines, the graffiti was not the careless variety that so often grew on overpasses of city roads; no, it had a thought-out look to it, a planned order, almost.

"Sir?"

I turned from the wall and looked to the boy who had addressed me—he might have been sixteen, the age of my Bird, my artist and granddaughter.

"Sir," he said, both hesitantly and earnestly, "I wish to tell someone, for I now feel it ought to be known, that I am responsible for this wall."

"Oh?"  I glanced at the school.

"Yes, it was my idea.  I find the wall disheartening—that vast wall of bricks, parading row upon row upon overwhelming row.  I wanted to do something to make it more interesting, not only for me, but for everyone who passes it.  Do you consider it wrong?"

I pondered for a moment whether or not I truly did consider the boy to be in the wrong.  I had always grumbled over any graffiti I saw, assuming it was a manifestation of a rude and rebellious attitude, but the boy was polite and respectable, and I doubted that he had intended to deface what was not his; he had only been so set in his train of thought that he had not had any foresight.

"I cannot believe you to be completely in the wrong," I concluded.  "In the future, however... you may find it better to gain permission before you act.  I do admire your thought and care, and I encourage you to continue.  One of my granddaughter's favorite little stories is that of a lady who did 'something to make the world more beautiful,' which is what we should all try to do, is it not?  Carry on, lad—make the world more beautiful."

He smiled and thanked me, turning to continue on some errand, and I looked after him, feeling that there was hope for the world—hope for the young, and hope for the old and pessimistic.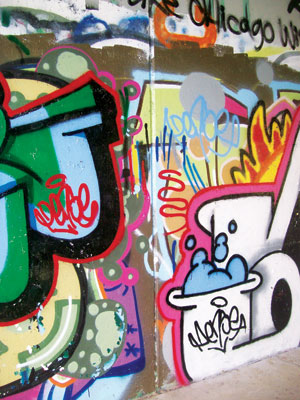 © Michelle W., Ada, MI