Dylan
July 1, 2015
He always said he wanted to be a professional boxer, even though he knew he wouldn't actually do it. He had the height though, over six feet which contrasted with my small size, but they said we made a cute couple anyway. He only cracked his knuckles when he was upset. He wore knee-high socks with different designs under his jeans and prided himself in showing them to me. He liked to touch his beard during class and even though I didn't like it much, I never asked him to shave. He only owned four shirts. I bought him a fifth for Christmas. That winter night, we were sitting by the fireplace in my house, hearing the crackling of the burning wood and staring at the dancing flames. He started to cry then, for his mother.  I'd only ever seen her picking him up at school when we were little, and had never had the chance to properly meet her. I listened to how he was just a kid the night they killed her. How his twin sisters were just a year old. He said I was the first person he told this to. We stayed up until 3 in the morning. Him venting about everything that had been left unspoken, trying to make sense of the knot inside. I rested my head on his shoulder and listened.
Often we spoke about pointless things. He liked to think up of crazy theories, like parallel universes and aliens made from space pollution. I laughed. He liked how I laughed. And I liked listening.
"I wonder if dead people can see us... or at least hear us,"  he said one day. "Like if maybe there is a place for them, and they can watch us through some weird post-life television."
"Like heaven?" I asked.
"I guess. Do you think it exists?"
"Maybe," I said.
His father wasn't around much, often leaving him to take care of the six-year old twins.  He did so without complaining and spent entire evenings drawing and watching episodes of My Little Pony. Those girls looked up at him as if they were looking at the Statue of Liberty. It was the kind of love that makes you want to cry. The first time he invited me over, they asked me if I loved him. I said I did. Then they asked if they could wear my high-heeled boots. I gave each of them one and they traipsed around in circles. I watched them and wondered if they dreamed of having a mom. 
He wasn't very good at spelling, or anything that has to do with language for that matter. We made a habit of studying Spanish and English at my house. I made him memorize that "light" comes from "lux" in Latin and "leukos" in German; that you lay down a book, but a book lies on you. He did well in his classes though; all the teachers loved him. He had a way with people that I could never understand.
"You just make them feel comfortable," he said, with a tone that suggested he took pleasure in explaining something to me for a change.
"How?" I asked, folding my arms.
"Your problem is you get too self-conscious around people. You have to let go, be yourself." He grabbed me by the shoulders and slid his hands down my arms, holding my hands. "But, at the same time, you have to know yourself enough to know what not to be in front of certain people."
I rolled my eyes and chuckled, "You make no sense."
His favorite band was Imagine Dragons. They were playing at a music festival in July and I got last-minute tickets for us. We arrived three hours early; he said it was necessary. It wasn't. We lay in the grass while other bands played, amid the roar of the crowd. The air smelled of the electric combination of beer, sweat, and summer. When Imagine Dragons came on, we made our way through the pack of screaming fans, exchanging drops of sweat with them. He carried me on his shoulders and sang all the lyrics at the top of his voice. I couldn't help smiling.
A year later I was accepted into Oxford University. Although we had talked about studying at the local college, I told him I was going. He understood and didn't try to convince me otherwise, but he kept cracking his knuckles while I talked.
The day we said goodbye was July 28th. He brought me to the airport, along with my family. He gave me a red coat with pockets of all sizes. "It gets pretty cold there in the winter," he said.  I thanked him and we both cried. When I was boarding the plane, I felt the urge to run back to him, but I didn't.
For the first few months after leaving, I felt lost. I imagined seeing him, in our hometown or in Oxford or wherever, and we would run towards each other and kiss and stay there forever. After a while, the fantasy disappeared. We often texted. He told me about teachers that looked like Robert De Niro and falling down on icy streets. I answered with my own stories but eventually, the exchanges decreased.
The next time I heard from him was a year and six months later. I was visiting our hometown for winter vacation and I spotted him at his favorite cafe when I was passing by. He saw me too and motioned for me to come inside. He insisted that I sit for a cup of coffee. "So we can catch up," he said. We sat in front of the fireplace and let the warmth envelop us. The conversation flowed out like a string of notes, without missing a beat. We spoke about everything and nothing.
He was wearing his red shirt with the faded motorcycle in the middle. He showed me his new knee-high socks (Mona Lisas) and smiled when I laughed at them. He asked about me, he told me he wanted to know everything. He touched his beard while he listened and proceeded to ask if I liked it. I said I did. He looked at me like he knew I was lying, like he had always known, but didn't mind. He talked about his new discoveries, everything he had learned, and how he had joined a boxing team, like I had told him to. After a few hours, I said I had to leave. Partly because I had to help fix dinner, and partly because I wanted to rest my head on his shoulder and listen.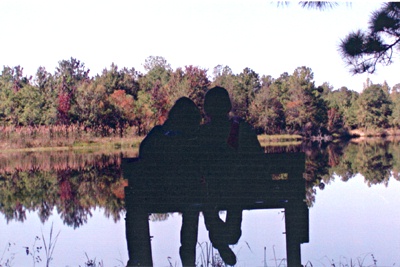 © Heather J., Slidell, LA