Last Goodbye
February 1, 2015
There were times when I questioned your faith, back when it started. I thought you knew what you were doing. To you, to me, to our friendship. Maybe you did, subconsciously, but you just didn't want to face it. I like to think it hurt you like it hurt me. But I'm not sure it did.
            Sitting in your room, on a summer day last year, I admitted to you the thought that had been floating through my mind for the better part of a year.
            "I used to think we'd always be friends. Past middle school and high school and college and everything." My gaze met the carpet. "But now I'm not so sure."
            "I am," you said. "We will." But when I think back to the memory of that day, I hear a waver in your voice; I see the flickering of your eyes. Unrelated? Perhaps. But foreshadowing of the future, nevertheless.
            In retrospect, I clung onto you for far too long. I piled all my trust onto you and waited for our friendship to heal. But waiting does nothing more than make the breaking of the bond that much more painful. I guess I thought you'd do something about it. I guess maybe you thought I would do something about it. But I've never been a doer. And you, the upfront, unapologetic one—well, I guess this was the one battle you were hoping to lose.
            I know you're not going to come to your senses. I know that one day you're not going to call me up out of the blue and apologize for all the anxiety and uncertainty you caused me, for all the rambling entries in my journal where I scrutinized your actions down to the minute details and tried to apply some reason to them, for all the times when you breezed by me in the halls without so much as a second glance. That doesn't happen outside of the movies.
            And even if you did apologize, I'm not sure I'd be able to forgive you. Because I'm not sure you'd be able to change. Torn between her and me, you would choose her in a heartbeat. You already have. Your loyalties have been shifting for the past three years, and now you've finally crossed the abyss and left me on the other side.
            I'm not mad anymore, just disappointed. But I'm not going to try to cross that rickety bridge to reach you. I've still got friends on my side, friends who would never walk away without looking back, friends who don't incessantly crave acceptance, who know that it's a lonely place up there at the top. It's lonely, and cold, and in four years it'll all come crashing down and you'll just have farther to fall.
            Good luck up there. I'm not coming to find you this time.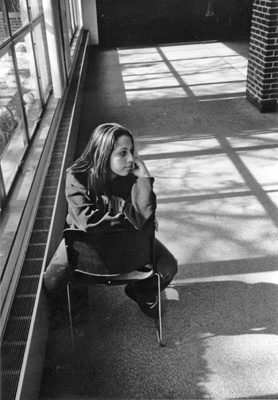 © Leighann E., Westport, MA