My Friend Robert
January 7, 2009
The small boy shook the nice lady's hand. It felt nice, a lovely hand belonging to his new mother. Stepmother, that is- the little boy hated that concept. He smiled politely and then let go, walking shyly to his room. He didn't hear her whisper in his father's ear- he didn't hear her say anything about his limp.

"Jacob," she put her hand on the little boy's father. "You didn't tell me about his…" she paused, "…limp."

"Well," Jacob replied slowly, "I did not think it would be an issue."

The woman just smiled and nodded. She was a kind woman but she was skeptical of what kind of son he had. She was skeptical because his little boy looked so much like his mother; dark hair, gray eyes, and- not that it mattered to her- dark middle-eastern skin.

They looked like the opposite ends of the number line; she had fiery red hair with shiny streaks of yellow and brown eyes. But the one thing that made them- the little boy and her- similar was a horrible red, bumpy scar. It was a scar that crawled down her left check and dribbled down her neck on the west side. It disappeared then reappeared on her right thigh and down her leg. She was protective of her self but she was beginning to feel the need to be protective of the boy too.

"But if you're worried he's going to have trouble…" Jacob interuppted her thoughts.

"No, no. He's going to be just fine." She shook her head. He is a perfect son, she thought happily.

Jacob sat at the side of his bed. Or was it their bed. They slept in it together. Or is it still plain old 'Jacob's bed'. He didn't want it to be plain old 'Jacob's bed'. It just didn't sound right. Not in the slightest, so that's why it was their bed.

He sat on the side of their bed for thirty minutes- as long as it took Lucy to get ready. But that was enough time for him to reminisce. He too was 'ugly' or 'abnormal'. He had a prosthetic leg but it made him no different. Not as in 'no different to his family', no different as in human being. But Jacob of course did not under stand this concept.

But Lucy, she understood Jacob completely. The nice things she said at dinner dates or in bed. The things she'd do for him without making him feel helpless. And her job was well paying. Not that his job wasn't, well it wasn't the best buck making job but at least if the university he worked at made budget cuts, they would still make rent and have food on the table without making Lucy do over time.

She stepped out of the bathroom and into the bedroom with her bathrobe pulled on.

She did not have to say any thing to make him stand and pull her into his arms real close. He was grateful to have someone like Lucy. She's going to be a wonderful mother, he thought happily.

The next morning, when little Robert awoke, he was ecstatic. Today was the first day of school. But although he did not go to school yet- he was only four- he loved to walk to the bus stop with the pretty girl next door. He got up quickly and pulled on his robe and slipped on his shoes. She would be ready soon and he could hardly wait.

She had just put her bowl in the sink and put on her shoes when she heard a knocking on the door. She smiled, it was him and he remembered.

She opened the door and her grin widened. "Robert. How nice of you to come!" he stepped forward and gave his friend a stiff hug. She returned the hug and patted his head. Then he looked up into her eyes and then past her, at her backpack.

She giggled, lifting her hand to cover her mouth. "Oh thank you Robert." She went to go get her bag when Robert shot out from behind her, grabbing her backpack and then handing it to her. His mobility with his limp was effortless. He smiled and took her bag from her friend. Then calling good bye to her mother, they walked out into the hall down to the bus stop.

Robert limped up to the apartment with the super vision of the super attendant. Once he got to his apartment he shook hands with the super his way of saying thank you. The super knew that and he said, "You are absolutely welcome Robert." And walked back down the hall. Robert tiptoed into his room and pull off his robe and shoes. He knew this was going to be a great year.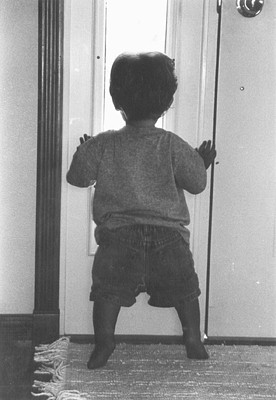 © April D., Whitehall, MT