A New Kind of Gift
January 3, 2009
The morning of my grandmother's funeral was too cloudy, the ceremony too somber, the burial too uncomfortable. A day much too dreary for the spirit she had had in her. These observations—obvious to me—caused the lump in my throat to grow with each passing minute. Now, only hours after my shaking fingertips brushed her corpse, the air in my grandmother's parlor room is thick with sorrow. Too many people, present only because of the potent force of obligation, are scattered around whispering, forcing me to suffer worried glances and awkward pats on the back. They don't belong here; they didn't love her like I did. Where were they through the illness, the bittersweet reminiscing, the painful goodbye, the end? Where were they when my grieving mother was unable to be comforted by those going through the same struggle? As I leave the suffocating room and climb up the stairs, I swallow my resentment and lick salty tears off my lips.
With blurred vision and a twisted stomach, I climb the steep and creaky stairs to the attic of the house, a quiet haven from the tension below. Disregarding both my neat hair and my freshly dry-cleaned navy dress, I lay down and closed my eyes, my cheek pressed against the cool, dusty floor. It takes only a few minutes of repose for my heartbeat to return to normal, and I sit up, wondering whether my presence downstairs would be missed or even noticed. I reluctantly make the decision to go back, but a glance into the corner of the attic snatches my attention. There, sits a box that would have gone unnoticed if it hadn't been for its notable beauty among the piles of wrinkled clothes, broken appliances, cracked furniture, and forgotten toys covering most of the space.
Curiosity immediately governs me as I walk over to the box, noticing my grandmother's name engraved on the side, and lift the top. My eyes widen as I take in the mementos of the passage of time. The box holds cracked and faded photographs among other keepsakes, sacred simply because of age and the person whom they belonged to. I quickly become engrossed with a past I had never known. I study the pictures, filled with glowing faces, people I know in bodies I don't. Men, women, and babies flash before my eyes at weddings, picnics, birthdays, and other joyous occasions. They are smiling, unafraid of what age may bring. My grandmother's small cursive marks the back of each one, and I run my finger over the handwriting, wishing she could be here to describe each face, associating a story with each one. Why hadn't we done this before? Would these characters, so important to my grandmother, remain a mystery to me?
Digging deeper into the box, I find other pieces of history—a lock of my mother's hair, some chipped costume jewelry, a love letter written by my grandfather in World War II. These finds are surreal to me, and the tears that had tormented me earlier return. I am crying for the life my grandmother led and for her precious life before me that I had never come to know. Crying turns to sobbing and I don't notice when my mother come into the attic, looking for me. From behind me, she wraps her arms around me and squeezes. She is stronger than I realize. I don't resist her touch and lean into her, burying my face into her sweater. My key to what I want to know—what I must know—is right beside me. Perhaps through this devastation, this loss I will gain a consciousness of something that I couldn't have before and grow.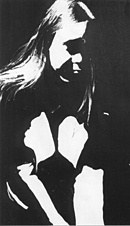 © Tabitha M., Kannapolis, NC