Life of C
April 3, 2014
Tired, beat, worn out, I drag my feet to the couch. My soft paws feel the lush of the seat; I crave the warmth it gives me. My eyes are dull with sleep; my lids sag. I look at my house. Its still, quiet, and snug. Fit for a nap. A car horn breaks the peace. I stare through the glass. The street is full of cars and the crowd is big. The world is full of life, but my house is not. It is hush and safe.

A breeze flows through the screen gate; it sends chills down my spine. Spring knocks at the door. It has the faint smell of fresh grass and sweet herbs. I do not hear the buzz of bugs. Not one can be seen, for it is still too cold to be out. I love the scene in front of me. I can't wait for the hot days.

My boss, known as dad, walks by the room. He holds a pile of bills. A few fall to the floor, but he is too tied up to care. He then sits and starts his work from day to night. The light does not go out 'till the first ray of dawn, when he lays down to sleep. Dad works too hard, I, as a cat, think so too.

Next is mom. She walks by the couch and goes straight to the food. She is a great cook who tests her skills on me and asks for my thoughts. I can't talk but ask for more. She smiles, pleased with my choice. The smell of fried fish fills the house. I sniff in the scent; my mouth drools. This food is not for me, how sad.

A ball of yarn rolls by my feet. The child still wants to play. He can be a pain now and then, but I still love him. He pats my head and strokes my fur. I start to purr. I can feel the pulse of his heart through his hand; it is slow like the set beat of a drum. It lulls me to sleep. My eyes start to close. My purrs are hushed. I lay still as stone. I wait for the dreams to come.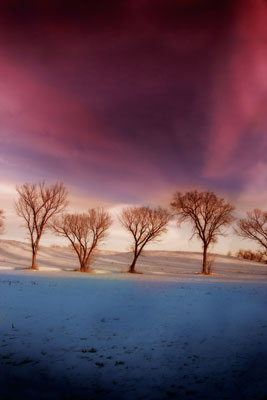 © Elizabeth H., San Bernardino, CA