Written Today
MAG
February 24, 2014
I am being forced to write this. Well, not exactly forced – I mean, it's not like someone is holding a gun to my head or yelling at me – but this is for a grade. And I am an extreme procrastinator, so I suppose I will tell you a story. For the sake of my grade, I will tell you a story. This, mind you, very sarcastic story will be told in a very particular order: introduction and background to the main character, whom you will follow throughout their boring life, a middle section where somewhat unexciting things will happen to said character, and an ending. This ending may or may not be sad, happy, or any other adjectives that bring about images of texting emojis or Walmart stickers.

Speaking of Walmart stickers, there used to be an elderly woman who worked there. I know that's a super-detailed description, but just bear with me here. Every time I would go there as a child, she would be standing by the shopping carts, waiting with a big roll of smiley-face stickers. Just as I would put my hand on a cart, she would hobble over and place a big yellow smile on my hand. I know that her intentions were kind and genuine, but each time I felt her cold wrinkles engulf my tiny hands, my heart stopped and my mind whirled with pictures of evil monsters and scary child-eating witches. Now that I think back, I almost feel bad for being so afraid of her. All she ever did was give me stickers; why did I always have to run? Now, whenever I go to Walmart, I wish I could see her and apologize for my rudeness, but I think she's probably dead by now.

So I told you I'd tell you a story in "a very particular order," but it looks like I lied to you. At least you're here to know that I'm sorry.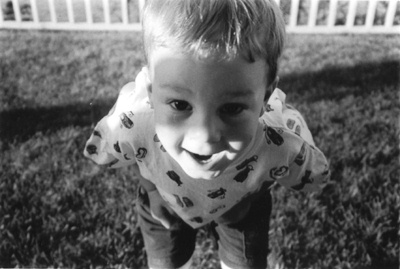 © Jessica M., Marblehead, MA