The Crab and The Balance
October 19, 2013
The raven dances around the laughing trees, enjoying the crisp October. All is silent besides the sound of children bursting with laughter.
His hand finds mine in a trembling mess. Smiling, yet nervous, my fingers lock around his. Silently, I watch everyone all dolled up in wonderful costumes each in a battle for the most candy. Ignoring the bright lights from Halloween decorations, I begin counting stars.
He watches me and grasps my hand tighter. We stop walking and he makes me look at him. His lips find his way to my forehead slowly. I stop counting, my arms go around him and we stand there silently.
I wait for something horrible to happen. It's impossible to feel this within me, impossible to believe in such an exquisite scene. I shake when I pull away. He is better off without me, better off without the heartache I would bring him. My eyes travel down to our intertwined hands.
Wishing I could give him something more, something he deserves, I let go of his hand. It hurts to see him. If only I could find the answer to take away his pain. If it takes forever, he needs to know I love him. I stare at him, mesmerized by his eyes. Automatically I stop, I want to hug him, kiss him, anything. I want him. I need him.
He watches me with confusion. My attention turns to the cawing crow, laughing trees, and all of a sudden I am filled with terror. A hand pulls my attention back to him. Here he is, watching me again with worry. His arms go around me. I am safe here. The trees stop laughing, the crow hushes, all is calm besides the storm inside of me.
I pull away once more, fighting the urge to stay in his arms. I want to be back there, back in his tight embrace, smelling his cologne, and feeling like we're the only two in the world who matter. It is impossible to be back there. Impossible to trust him, impossible to love him, all of this is impossible. I watch my feet, avoiding his gaze.
His eyes search mine, looking for any insight. I look at him and have the urge to kiss him. My temptation to kiss him burns inside my cold skin. His eyes are still fixated on me when I shiver. I watch his arms, smooth, and inviting. Fighting temptation, I distract myself. The trees begin laughing again, the crow caws, I am terrified again. His arms go around me and I realize I have missed him terribly. I fell in love with him quite suddenly, but now I know… there is nowhere I would rather be than in his arms.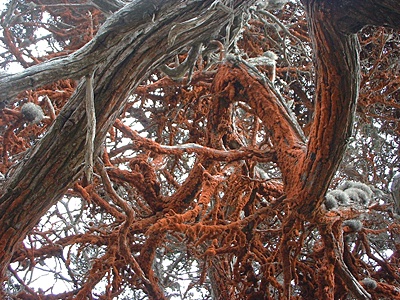 © Tyler B., Buenos Aires, Argentina