Lipstick and Dads
September 21, 2013
She wanted to wear

lipstick. She wasn't asking for much, really, just one of those plastic tubes of colored wax for 99 cents at CVS. It wasn't like she was asking for birth control pills or marijuana.

But he took it as a sign that his baby was growing up, another mountain of her childhood thrown aside. He was kind of confused about what to think, really. He had hoped that she wouldn't get a boyfriend until college, but he read on a parenting website that teenagers were good at hiding this type of thing. He also hoped she would keep playing basketball, but who knew? Because even though all she wanted to wear was lipstick, he imagined her as a fully-curvy twenty-year old with layers upon layers of make-up, and future ambitions of plastic surgery. He would still love her, he knew, even if she went into rehab and came out looking like Lindsay Lohan.

However… what if she did have a boyfriend? He told himself that he wasn't like those over-protective dads you see on those websites. If she did, he wasn't going to go out and buy a Glock or a Magnum. He just hoped that she trusted him enough to let him meet her boyfriend. He wanted to make sure that her boyfriend wasn't one of those druggies or jerks or idiots. He only wanted to make sure.

Maybe he was just overreacting. He didn't know. After all, it was just lipstick, right? A cheap plastic tube of twistable colored wax. It was only lipstick

that she wanted to wear.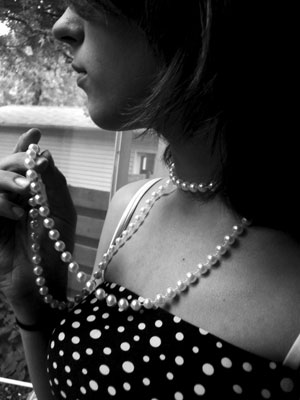 © Elaina V., Canton, OH