Same Old Song
July 17, 2013
When I was eight years old, I won an art contest at school; I saw my first PG-13 movie; I gawked at the Backstreet Boys in concert, and completed the monkey bars at the park in under a minute. Now that I'm fourteen, I'm starting to see that when I was eight, I also realized for the first time my relationship with my mother wan't normal.

My third grade classroom was covered in pink and red paper hearts for our class Valentine's Day party. In the back there was a table of sweets that the class moms had baked for us. I had just finished eating my second cookie, when Ms. Trudy tapped me on the shoulder and asked me to come in the hallway. My best friend, Camille, gave me a look of pity as she whispered, "Good luck."

I knew she was really just happy that it wasn't her. Kyle Tucker took the last cookie off my plate, with a smile, as I slowly got out of my seat. I could feel all my classmates digging their eyes into the back of my head wondering what i had done to be called out in the hall. I wondered too, as I shuffled behind Ms. Trudy. Her heels clicked against the school's tile floor. Ms. Trudy reminded me of a nun with her stern face and long dresses that buttoned all the way to her neck.

"Jasmine," she started to say. I hated how she pronounced my name. I think she had a lisp, so whenever she said my name it sounded like Jastmine. I smiled anyway, so she wouldn't think I was being rude. "I've just received a call from your mother. She's on her way to pick you up. Let's wait in the front office. She says she's in a hurry."

"Did she say why," I asked happy that I wasn't in trouble.

"Just go get your stuff, dear. I'll walk you to the office."

I swung my legs back and forth, letting my light up sneakers thump against the wall. Ms. Trudy opened her red lips like she wanted to tell me to stop but then refrained from doing so. It only took about five minutes for my mother to burst through the office. She grabbed my hand and pulled me outside. She only stopped to say a quick thank you to Ms. Trudy over her shoulder.

I sat down in the backseat and waited. My mother beat her fingers against the steering wheel waiting for the cars to pass through the intersection. She switched the radio on then flipped it off. I asked her where we were going, but she stared at the traffic light begging out loud for the colors to change.

"Mommy, where are we going?" I tried again.

"You're going to your grandmother's, Jazzy." Her answer was curt a tone that I had never heard my mother use with me.

"We're having dinner there?" I asked perplexed. "But it's not movie night."

"No, baby girl, you're right. I'm just trying something new. Trust me okay?" How could I not trust my mom; she was my best friend.

The car screeched as my mother turned onto the cobblestone driveway of my Grandmother's house. She lived with her sister, my great aunt Sarah Lee. After my grandfather died, Aunt Sarah Lee moved in with my grandma, so they could spend more time together. That's what families do, Grandma told me once. They take care of each other.

My Grandma and Aunt Sarah Lee both had dark smooth skin like mine. Aunt Sarah Lee liked to wear a lot of colors and makeup that matched, while Grandma only wore black or navy blue.

I always liked going to my grandma's house because Aunt Sarah Lee would bake me cookies and watch movies with me, while my mom and grandma talked after eating dinner. However, when I opened the door, there were no cookies waiting for me on the kitchen table. My mother handed Aunt Sarah Lee an overnight bag that she must've packed for me while I was at school. She leaned down and kissed the top of my head.

"Wait, where are you going, Mommy?" I cried finally realizing that my mother was leaving me.

She avoided making eye contact as she walked out the door. Aunt Sarah Lee pulled me in close as I cried into her purple silk shirt. My shoulders shook violently as she rubbed my back.

"Shh, it'll be okay, my little princess," she whispered over and over. " Your mommy will always love you."

Every time my eyes closed, I saw my mother walking away from me. She took a deep breath before she walked briskly with her shoulders thrown back; not once did she look back. That night I slept with my grandmother. Her velvety wrinkled skin warmed my frozen body, yet gave little comfort to the questions dancing around in my head.

"Why, Grandma," I asked between sobs, Why did my mommy leave me? What did I do wrong?"

"Oh sugar, you ain't do nothing wrong. Your mommy…well," Grandma paused, trying to find the right words. "your mommy is having a difficult time right now. You'll understand when you're older baby."

I thought that I understood then. Kyle Tucker was in my art class. His parents recently divorced. he told me that the judge let him live with his daddy, while his mommy took a break. Parents were allowed to rake breaks, I told myself. It was normal. Kyle Tucker told me my mommy would never come back, that she didn't love me anymore, just like his mommy.

"The first couple days, I looked for my mother everywhere. I searched for her thin frame and light skin at the grocery store, the park, and even in the cars passing by on the highway. After the fourth day at my grandmother;s I remember thinking that Kyler Tucker was right; my mommy didn't love me anymore. I thought that if I was really good, my mommy would love me again. If she loved me, then she would come back from her break. I helped Ms. Trudy clean the tables every day after school; I made my bed, and I even shared my cookies with Camille during snack time.

Grandma and Aunt Sarah Lee tried to keep me busy. Grandma always used to say, "Time flies when you're too busy to notice." Everyday Aunt Sarah Lee would drive me to school, while Grandma went to work. In the afternoons, my grandma would pick me up from school in her white truck. They would both help me with my homework until six thirty when we would have dinner. Grandma cooked all sorts of meals like baked chicken and macaroni & cheese. One time she even cooked lasagna; it was delicious! Aunt Sarah Lee made dessert every single night. At first I was hesitant to eat so many desserts because Mommy always said it would make me fat if I ate too much.

I soon learned that if all my homework wasn't done, I wouldn't be able to watch "That's So Raven". When I lived with my mother, she was always working at the diner at seven thirty, when "That's So Raven" came on, and I would be curled up in one of the vacant booths. I would eat whatever Carl, the chef, put on the menu for the night. My mother didn't care if my homework was done, just as long as I was quiet.

I'm sitting on the front steps of my high school, waiting for my mother to pick me up. All the other kids have left; it's just me. It's been seven years since my mother left me, yet it crosses my mind that if she left me once, she could easily do it again. When she left me in third grade, it took three weeks for her to come back into my life. She came back on Wednesday, April 5th, 2006; I will always have it marked on my mental calendar as the day my mother loved me again.

That day her shiny red car edged along in the car pool line after school. I crept slowly towards the car scared that this was a mean trick, that it might not be her. her skin was glowing. She was wearing a new red dress with matching shoes. Her luggage was in the backset, as well as two big shopping bags. There was a man i had never seen before sitting in the front seat. His horse teeth clenched together as he faked a smile for me. I thought about the cupcakes that Aunt Sarah Lee had promised to make for me that night. The were cooling on the kitchen counter; they would be lying, untouched waiting for me to devour them.

My mother rolled down the window and leaned across the man in the front seat I looked down at my light up sneakers before meeting her eyes. Her smile was wide and her eyes were shining. This was also the first time I also felt any anger towards my mother. I hated her for leaving me. I can still remember how her voice surprised me, it was so light and happy. Her cheer rang through my body as she simply said,

"Hey Jazzy, baby, how was school?"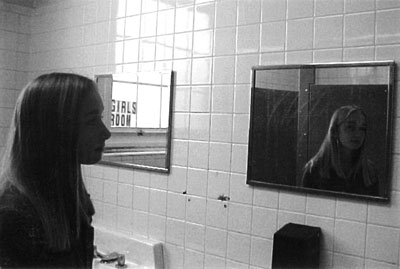 © Jill H., Pompton Plains, NJ